A simple Google search for popular festivals will give you an idea about the global appeal that Holi, the festival of colours, enjoys. The festival has manifested into colour runs and colour parties across the globe. In fact, when Coldplay decided to shoot a video in India, it was the festival of colours that bagged the spotlight.
But there is one aspect of Holi that is not as not colourful as the festival. Like every year, this year too many people will leave their taps open and waste gallons of water during Holi, which will ironically be celebrated just a day after World Water Day (22 March).
While water conservation is something you may have read and heard about umpteen times, here are some practical - and easy - ways to enjoy this Holi without wasting water:
Markets are flooded with vibrant gulaal (dry powder colours) which are perfect to make your Holi a memorable one. What better way to welcome a festival that marks the triumph of good over evil and welcomes Spring?
Playing Holi with fresh flowers may sound unconventional but a number of cities across India follow this tradition.They express their joy with dancing on the latest tunes and throwing flowers at each other.
In yet another unique Holi tradition, the women of Barsana, a village near Mathura, playfully hit the men in their village with sticks. This celebration is called Lathmar Holi.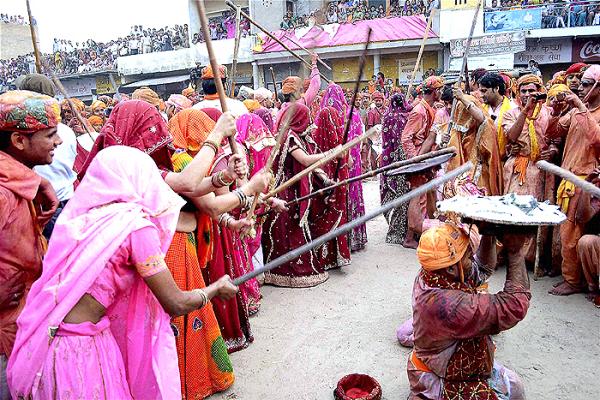 There are many ways of making the day special. And even the smallest of changes can go a long way in preserving the environment. While pouring water from buckets must be prohibited, one may also stop using the water balloons along with water guns. While it may seem that balloons and water guns don't take up much water, that is not the case.
A lot of water is misused during the time of Holi in various forms. People in large groups throw water at each other and colour is mixed into thousands of water tanks.
And after the celebrations are done, more water is used to remove the colours. So every step to conserve water counts.
In a positive development, a number of Indians seem to be keen on a dry Holi this year.
Maharashtra Chief Minister Devendra Fadnavis has requested people of his state to play dry Holi on account of the acute water shortage and drought in the state.
Some people shared their views on Twitter urging others to adopt the initiative as well.
Please have a Dry Holi-2016.Only use natural colors n flower petals. Drench each other with Love not water.Save Water Save Yourself.

- VSR13 (@FEAWSI) 9 March 2016
I pledge to play Safe and Dry Holi https://t.co/pc12meGXkQ

- Dr Rita Savla (@RitaSavla) 9 March 2016
Lets play HOLI with Dry Colours only. It is also possible to enjoy holi withou wet colours and rain dance.... https://t.co/EvwLZbDBP1

- Subhajit Mukherjee (@subhajit) 6 March 2016
Banking professional Priyanka Taneja said that it is better not to use water on Holi as the festival of colours was best enjoyed with colours.