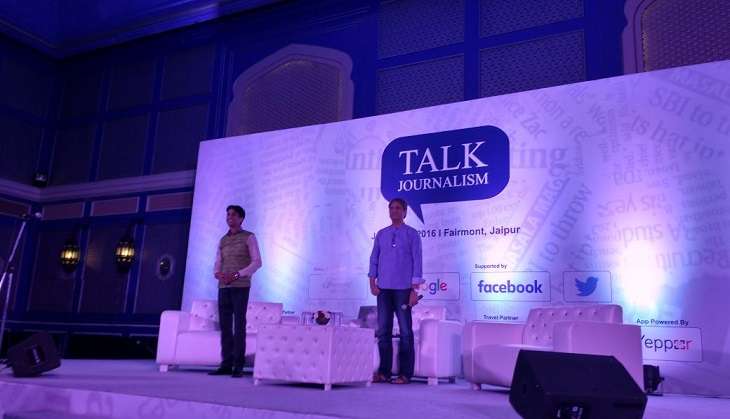 The penultimate session of Vox Media Festival's Talk Journalism 2016, boasted of Ravish Kumar's and Aam Aadmi Party leader Kumar Vishwas' 'Jugalbandi'. But what was meant to be a conversation between two famous personalities ended up becoming 20 minutes of Vishwas' showmanship, while Ravish looked on bemused.
Are there any poets-turned-politicians in this world who aren't fond of talking? Probably not. Vishwas is no different. The discussion was largely about social media and its impact on politicians and the media.
We say largely, because the conversation was generously sprinkled with verses of poetry, and longish short stories. All from Vishwas, as Ravish looked on stoically.
Of social media, trolls and the art of blocking
The virtual world comprises an army of angry people, according to Vishwas. Having previously been accused of blocking trolls, the AAP leader figured this was as good a platform as any to address the issue. The clarification being: to those who missed the memo, don't abuse on my timeline, for I shall block you.
Answering a question from Ravish about how social media had helped politicians campaign for elections, Vishwas insisted that the credit lies with the 'content'. If content is good the campaign is bound to do well, he said after narrating another story illustrating his point. Never one to be deterred by an irrelevant answer, Ravish tried again, looking less bemused this time.
"How exactly has social media helped?"
"It is great that the interaction between a leader and its audience. Feedback, be it good or bad, has become two-way (eh?)."

Session summary: Being bemused
Having given up on asking about politics and social media, Ravish changed tack - speaking about poetry instead. And from here till the end, the questions never matched the answers.
It was amusing to watch Ravish struggle, give up and then ask Kumar Vishwas to end the session with singing - without talking. Not kidding. He specifically requested that Kumar sing without stopping for speeches. Alas though, the request only lead to more special anecdotes pre-song, mid-song and post-song. Still, the audience lapped it up, and, when the session ended, a large part of the audience streamed out behind Kumar Vishwas reminding us of the pied piper and his mice.
Day 3, be nice.