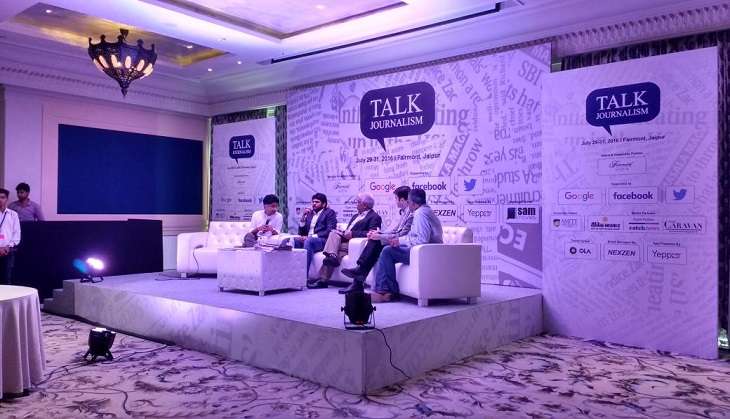 A day that begins with a discussion on the Panama Papers and ends with a candid session with Ravish Kumar is a day well spent.
As noon came around, the 'Amity Session: Indian Media in the World' kicked off with Raju Narisetti (formerly with The Wall Street Journal), Anant Goenka (Indian Express), Alex Travelli (The Economist) and Bharat Bhushan (Catch News). The topic of discussion was Indian media's role on a larger, global canvas - or the lack of it.
One of the first things tackled was the assumption that foreign correspondence is a 'plum job'.
Because, you see, as it turns out, it really isn't. Bharat Bhushan, Editor of Catch weighed in on the debate and declared that the job was anything but. Covering foreign shores, he said, was essentially like signing away your life and sleep.
Are we bad neighbours?
Raising the issue of foreign correspondence in India being limited to what's happening in the west, Bharat pointed out that the patronisation of our neighbours - be it Nepal or Bangladesh, is 'shameful'. "Indian Media is more belligerent than the Indian state." Indian media - especially TV channels' condescending admonishment and almost vindictive reportage when it came to our neighbours, was both unnecessary and wrong. It's a point that's hardly raised, often willfully ignored and wholly in need of immediate redressal.
India, the west and everything else in between
Talking about India media's obsession with the west, but not vice versa, Raju Narisetti went on to give the example of The Wall Street Journal and Quartz. It seems that people in India would rather consume information from the main homepage of said websites (which cater specifically to the western world) than log onto WSJ's or Quartz' Indian outreach.
In other words, foreign publications are read only for stories from abroad.
Are journalists being trained for foreign assignments?
Anant Goenka said yes. Bharat Bhushan said no - largely thanks to retired generals having stolen these opportunities.
Raju Narisetti, meanwhile, spent a good 5 minutes making every journalism student in the room - current or former - feel awkward. The truth has that effect. "How can professors who've not been in the newsroom for over 20 years teach journalism?", asked Narisetti. How, indeed. As much as Narisetti's blatant dismissal of J-schools and their products *cough* was disheartening, his logic made sense.
You can teach the skills, for everything else you'll need the pressure of a newsroom to be able to cope in an actual work space. However even as he said that, he immediately stepped on his own point by saying that it was far easier to train journalists and invest more time in them when print was the only option. Individual training in a digital newsroom, which thrives on minute-to-minute updates, he said, was near impossible.
All in all, a session as eclectic and informative as its panelists. Day 3, can you top this?