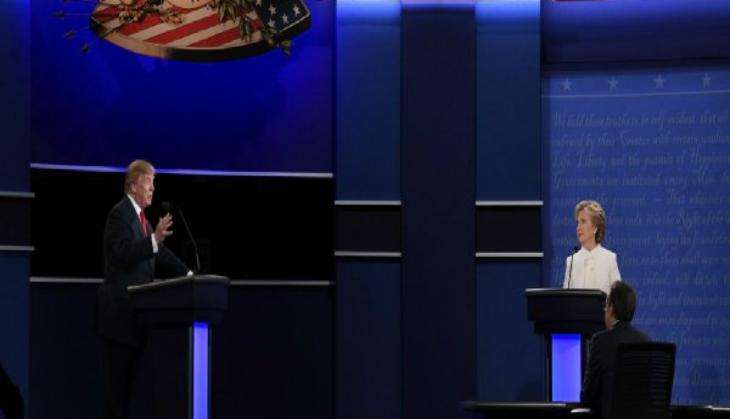 Presidential candidates, Democratic Hillary Clinton and Republican Donald Trump, pressed each other hard on various issues such as abortion laws, immigration, terrorism along with several other topics during the 90-minute televised debate on Wednesday night.
The event began on a rough note as both the candidates took the stage without shaking hands to confront each other in the third and final debate of the US presidential polls.
The debate was administered by Chris Wallace of Fox News, who began the debate with the first question about Supreme Court.
In response, Clinton said, "I feel strongly that the Supreme Court needs to stand on the side of the American people, not on the side of the powerful corporations and the wealthy. For me, that means that we need a Supreme Court that will stand up on behalf of of women's rights, on behalf of the rights of the LGBT community, that will stand up and say no to Citizens United, a decision that has undermined the election system in our country because of the way it permits dark, unaccountable money to come into our electoral system."
Also Read- Donald Trump vs Hillary Clinton: Presidential candidates lock horns over economy, immigration, abortion laws and other issues
On the other hand, Trump said, "We need a Supreme Court that in my opinion is going to uphold the Second Amendment and all amendments. But the Second Amendment, which is under absolute siege. I believe if my opponent should win this race, which I truly don't think will happen, we will have a second amendment which will be a very, very small replica of what it is right now."
During the debate, Clinton launched a sharp attack on Trump in connection with his flattering remarks about Russian President Vladimir Putin as well as the espionage charges against Russia. Trump defended himself saying that he doesn't know Putin.
"Russian government has engaged in espionage against Americans. They have hacked American websites, American accounts of private people, of institutions, then they have given that information to WikiLeaks for the purpose of putting it on the Internet. This has come from the highest levels of the Russian government clearly from Putin himself," she said.
Trump said: "She wants open borders people are going to pour into our country people are going to come in from Syria. She wants five hundred and fifty percent more people than Barack Obama and he has thousands and thousands of people they have no idea where they come from. And you see we are going to stop radical Islamic terrorism in this country. She won't even mention the words and neither will President Obama. So I just want to tell you she wants open borders now we can talk about Putin. I don't know Putin."