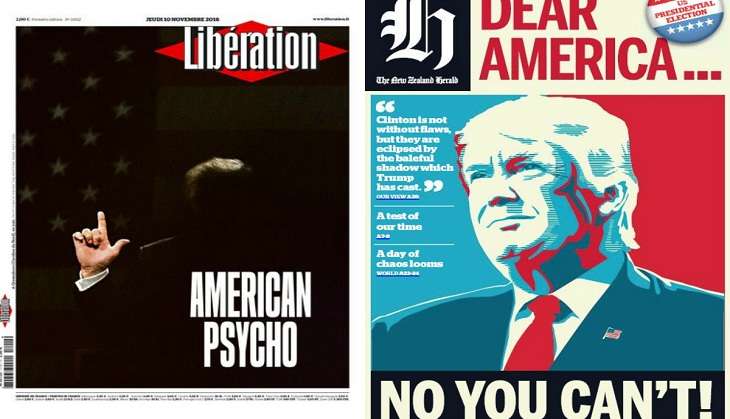 The unthinkable happened on 9 November 2016. Defying all odds, the United States of America picked Republican candidate Donald Trump to be their 45th President, plunging millions across the world into a state of panic and dread.
Thursday morning saw newspapers from across the world heralding the dawn of a new era, one where "celebrity businessman and political novice", as the Associated Press had dubbed Trump, holds the reins to the American democracy.
Here's how newspapers from across the world reacted to Trump's triumph over Hillary Clinton:
The front page of The New York Times, Nov. 9, 2016.

Follow https://t.co/eMyFEYiHno for live updates. pic.twitter.com/zmbtVvir7j

— The New York Times (@nytimes) November 9, 2016
The front page of The Wall Street Journal pic.twitter.com/vFpldfwwqu

— Wall Street Journal (@WSJ) November 9, 2016
Trump triumphs: Here is the front page of Wednesday's Washington Post pic.twitter.com/xKbpEzPNXK

— Washington Post (@washingtonpost) November 9, 2016
While the likes of the New York Times, Wall Street Journal and the Washington Post simply declared Trump's presidency without mincing their words, other publications weren't so forgiving in expressing their shock at the election results.
Tomorrow's Daily Mirror front page: It's President Trump, what have they done? #tomorrowspaperstoday #PresidentTrump https://t.co/lO35RU7SOH pic.twitter.com/0mMrqZYyA9

— Daily Mirror (@DailyMirror) November 9, 2016
Our front page for Wednesday:
HOUSE OF HORRORS: Trump seizes Divided States of America https://t.co/KKePm7uBhV #ElectionNight pic.twitter.com/HcuYeizg3j

— New York Daily News (@NYDailyNews) November 9, 2016
Tomorrow's front page: The Simpsons' most absurd prediction in its 27-year history has come true https://t.co/dvpjgCQwMH pic.twitter.com/PYINTerjlL

— The Sun (@TheSun) November 9, 2016
From invoking the prediction that The Simpsons had made in the year 2000 (and was deemed extremely ridiculous at the time), to dubbing the White House as the House of Horrors, some newspapers did not hold back from expressing exactly how ominous Trump's win could spell.
Tomorrow's cover: @realdonaldtrump has been elected the 45th President of the United States https://t.co/wiLL74mh8B pic.twitter.com/IJOWFp9FEr

— New York Post (@nypost) November 9, 2016
IT'S TRUMP! pic.twitter.com/DJJsIEsjww

— Boston Herald (@bostonherald) November 9, 2016
Guardian front page, Thursday 10 November 2016: Trump wins. Now the world waits pic.twitter.com/MXqJQ9Aw4r

— Guardian news (@guardiannews) November 9, 2016
There were more neutral headlines, letting the world know that a new world order awaits. Trump's victory has the potential to completely change the world as we know it.
Thursday's @DailyMailUK #MailFrontPages pic.twitter.com/wDNGe9u4wx

— Daily Mail U.K. (@DailyMailUK) November 9, 2016
Tomorrow's Daily Telegraph front page today: 'Trump's American revolution' pic.twitter.com/7QF3zpPMhS

— Telegraph Politics (@TelePolitics) November 9, 2016
Tomorrow's front page of the Herald. https://t.co/eEH8m1plEu pic.twitter.com/RjtdCeGYh9

— smh.com.au (@smh) November 9, 2016
A revolution, some dubbed Trump's win.
METRO: Yes the Wall WILL be built #tomorrowspaperstoday #bbcpapers pic.twitter.com/Ud99zHRgEA

— Neil Henderson (@hendopolis) November 9, 2016
While the Metro reminded the world that the inevitable awaits, overseas publications did not hold back at all.
In the first edition of The West Australian tomorrow: pic.twitter.com/gIlxreH2rU

— The West Australian (@westaustralian) November 9, 2016
"Dear America... No you can't" - NZ Herald's anti-Trump frontpage on US election today: pic.twitter.com/Vvu1IE86qD

— Bryce Edwards (@bryce_edwards) November 8, 2016
A la une de Libé demain : American Psycho https://t.co/lrnuoCHq7b pic.twitter.com/4jExZuqqRr

— Libération (@libe) November 9, 2016
Trust the French to say it like it is.