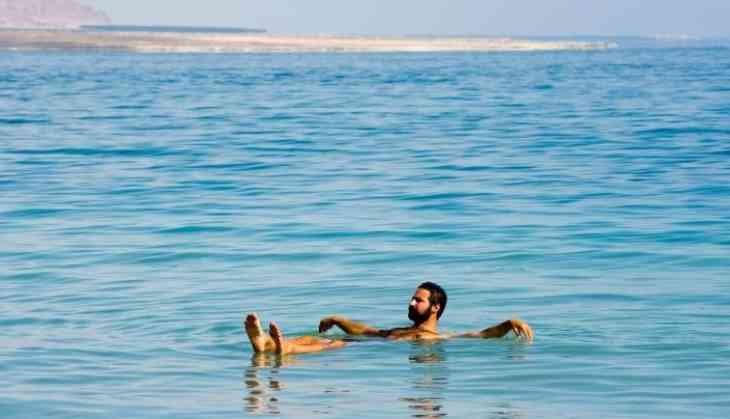 If you are planning for a exoctic place to travel in summers, you must visit Dead Sea in Israel for a breathtaking experience.

The Dead Sea is also known as sea of salt and is three million years old. The sea is bordered by Jordan to the east and Israel and Palestine to the west. It is also lowest elevation on earth at 1,388 ft below sea level. The sea is also located to the lowest road on the planet, Highway 90 located 1,289 ft. below sea level on the Israeli shore.

The sea is no less than a natural spa resort, the sea and the sand is equally soothing. You can apply the sand on your body to experience the magical quality of it.

You'll be trilled to know that the sea in the lake is 10 times more than the other lakes, which will make the experience spectacular.
Also Read: Saudi Arabia plans to issue tourist visas in April
You must be wondering how come a sea can have so much salt content, the sea is actuallly hypersaline. The lake is also ranked as the world's deepest salt water lake.

Back then, the lake was preferred by royalty like King Herod the Great and Queen Cleopatra. There are other things to do in dead sea if you get bored by floating around, you can apply the
slather black Dead Sea mud all over your body. The mud will serve as natural spa for the body, the rich minerals accelerate exfoliation and restore pH balance. The dried mud will help in removing the toxins from skin cells.
The minerals extracted from the Dead can be used for commercial purpose like the potash from the sea is Jordon's largest sources of income. If you are too much fanatic about the organic and natural beauty products, the products made from the Dead Sea are easily available everywhere.

The ancient people from Egypt would import the asphalt from the Dead Sea region and used it to embalm mummies.

Researchers and the people who have studied Dead Sea closely have suggested that the Dead Sea might dry up in next 50 years. Rush to this amazing place before there is nothing left to cherish.
Also Read: India-Israel flight service a 'historic moment': Israeli Tourism Minister