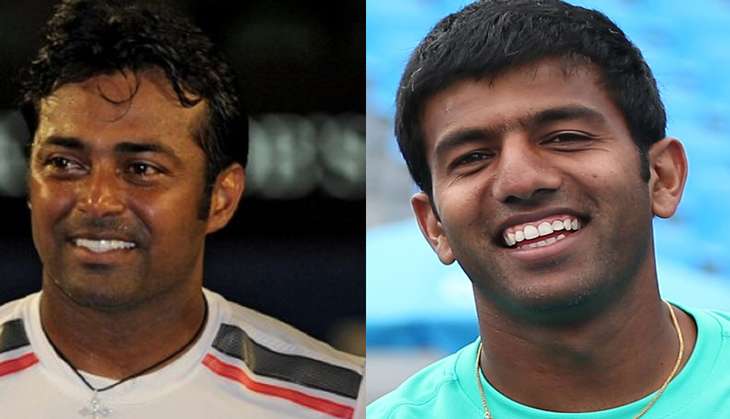 Ending days of speculations, the All India Tennis Association (AITA) on 11 June declared that Rohan Bopanna will partner Leander Paes, and not Saketh Myneni for the men's doubles event at the Rio Olympics in August.
Bopanna earned a direct entry to the Rio Olympics after breaking into the top 10 rankings of men's doubles category. He had earlier announced his decision to pick Myneni as his preferred partner over 18-time Grand Slam champion Paes for the men's doubles competition.
"A direct acceptance provides me the right to nominate my men's doubles partner, an opportunity for me to exercise my judgement as to the best possible partner for me. I have communicated my decision to the AITA," Bopanna was quoted as saying.
However, the AITA has ignored Bopanna's preference after the meeting of its selection committee for the Rio Olympics in Delhi. AITA CEO Hironmoy Chatterjee had earlier stated that the final decision lies with the selection committee "which may or may not honour Bopanna's preference."
Announcing the squad for the Rio Olympics, AITA chief Anil Khanna said: "He (Bopanna) has given reasons to selection committee on why he feels Saketh could be a better doubles partner. But he has also made it clear that he wants to represent the nation. It was a well-meaning letter (which Bopanna wrote yesterday to AITA). Leander and Rohan have played four times in Davis Cup, they have a 2-2 record."
"Committee decided that the best bet for Indian tennis to win a medal at the Olympics would be Leander Paes and Rohan Bopanna," he added.
Paes, who is highest-ranked doubles player after Bopanna, recently won the the French Open title with Martina Hingis in mixed doubles and will now be seen at Rio Olympics.
Meanwhile, Sania Mirza will team up with Bopanna in the mixed-doubles category at Rio. In women's doubles, she will partner Prarthana Thombare who is ranked 573 in women's singles. Prarthana is the sixth-highest player in AITA's women's rankings list, with 500 WTA ranking points separating her and highest-ranked Ankita Raina.
Men's Doubles: Leander Paes and Rohan Bopanna
Mixed Doubles: Rohan Bopanna and Sania Mirza
Women's Doubles: Sania Mirza and Prarthana Thombare