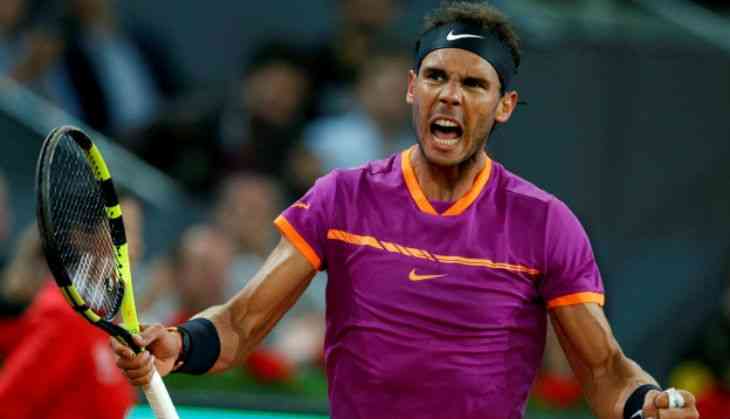 "Accept it and keep going", says 15-time Grand Slam champion Rafael Nadal while offering advice to tennis players who are in danger of skipping the fourth and final major of the season-US Open.
The 31-year-old continued his rich vein of form on Thursday as he trounced Richard Gasquet of France in straight sets to romp into the third round of the 2017 Western and Southern Open in Cincinnati.
Nadal is now all set to dethrone British tennis star Andy Murray atop of the rankings after the former pulled out of the Cincinnati Masters with hip injury.
It should be noted that the Spanish maestro was already assured of the numero-uno position for the first time since July 2014 when 19-time Grand Slam winner Roger Federer decided to miss the last major US Open tune-up with a back injury.
"I worked a lot to give me another chance and here I am. Just to be back to that position makes me happy and of course is going to be an emotional moment for me," Sport24 quoted Nadal as saying.
And the Spaniard, who missed seven months of action between 2012 and 2013 due to a left knee injury and then a stomach virus, said he completely understands how it feels to remain sidelined.
"I have been in that position more than all these players that are out now. I know how tough it is. I'm very sorry for all of them and I wish all of them a fast and good recovery," he said.
"But at the same time I tell you Roger didn't have a lot of these things during his career. Novak the same. Andy the same. Stan, I don't think he had a lot of issues," Nadal insisted.
Highlighting his long injury-lay off, the 15-time Grand Slam champion said that he is the only one in the top ranked players who has missed the tournament more than anyone else.
"I'm the only one of these top players that missed a lot of important tournaments in my career. More than nobody else, I know how tough it is. But the only thing that you can do when these kinds of things happen is accept and keep going," he added.
Nadal's advice came just a few days ahead of US Open-where he will bid to clinch his third title.
-ANI