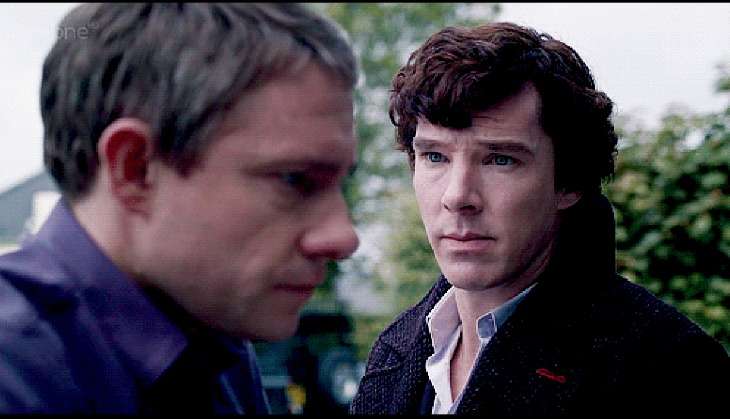 Looks like Sherlock Holmes and John Watson are never going to be romantically involved in BBC's hit series, Sherlock.
At a recent Tumblr question-and-answer session, the creators of the show Mark Gatiss and Steven Moffat answered fan questions about their series that headlines Benedict Cumberbatch as Holmes and Martin Freeman as the his friend and doctor.
One of those fan questions tackled the topic of the duo's chance of getting into a relationship. Fans have been shipping the two since the very first season, saying their 'chemistry' is palpable and obvious.
"Are you completely against the idea of Sherlock having a relationship with John? If so, what are your reasons?" asked a fan.
"Of course we're not against it. But as we have explained many times, that's not the story that we want to tell," Gatiss fielded.
"Obviously as a gay man myself, I have no problem with the notion that Sherlock Holmes and Doctor Watson could be in a relationship together, but ours aren't. It's as simple as that. Sherlock is clearly capable of feeling emotion and of falling for someone, but that someone is not John Watson, despite his love and great affection for him," he explained.
This lead to the question: who is Holmes saying, "I love you" to in the trailer?
"His mum, obviously. He doesn't ring home often enough and usually forgets her birthday," Gatiss teased, adding, "He's a very naughty boy."
Season four of the BBC show kicks off on January 1, 2017 on PBS.
---
With inputs from ANI