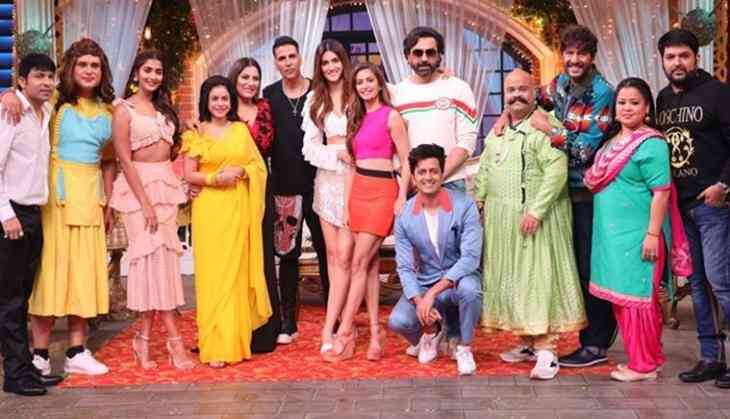 Sony TV's popular comedy show The Kapil Sharma Show is hitting the headlines when Housefull 4 star cast Ritiesh Deshmukh, Akshay Kumar, Bobby Deol, Chunky Panday, Kriti Sanon, Kriti Kharbanda and Pooja Hegde made their entry to promote their movie. Well, Kapil's show is the favourite destination when it comes to promoting films in B-town and not just this even the host Kapil also welcomes his guest with open hands, however this time he didn't just welcome the guest but also the sun.
Actually, the shooting of the show started early morning where Akshay called everyone on set before the sunrise however he himself turned up late and Ritiesh and bobby's social media handle stands witnessed where they can be seen threatening the actor for turning up late whereas he asked other to be on time. In the upcoming promo released by the channel, we can see Kapil and Akshay engaged in funny fight wherein Kapil tells Akshay that for the first time sun is not welcoming them rather they are welcoming the sun and saying this everyone burst out in laughter.

Moving on we will also see Kapil asking everyone whether they have been rejected by a girl in school or college? To this Akshay will raise his hand and will narrate a funny incident from his school wherein he proposed a girl and she rejected him on his face. Meanwhile, we will also see Kapil asking Bobby, Ritesh, Akshay and Chunky whether anyone of them has travelled without a ticket in train. Once again Akshay will narrate an incident wherein he travelled to Matheran with his 7 friends and as they didn't have enough money so they only bought one ticket for 7 people.
Also Read:
Housefull 4 is helmed by Sajid Nadiadwala, the film starres Akshay Kumar, Kriti Sanon, Bobby Deol, Ritiesh Deshmukh, Chunky Panday, Kriti Kharbanda, Pooja Hegde. The film is slated to release on 26th October.
Also Read: