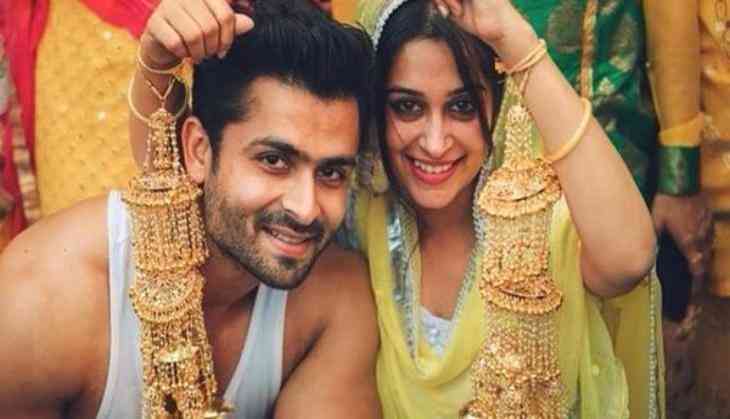 One of most beloved and super 'bahu' of the Indian Television industry Dipika Kakar and Prem of Sasural Ka Simar, tied knot on February 22nd in a village in Uttar Pradesh. The duo is best known as 'Shoaika'.
The newly married couple will be hosting a grand reception party for their friends and family in Mumbai on February 26. The duo has been dating for years and finally got married. Dipika belongs to Hindu family while Shoaib is a Muslim man. In order to get married the bride, Dipika had changed her name and her new name is Faiza.
The duo's wedding card pic is now going viral on the Internet and as per reports, this invitation card has been used to invite people in Shoaib's village. On this card, the name of the bride is Faiza and groom's name is written as Shoaib.
However, no clarification has been given on the matter from both side but a source has denied such news and said, "She has not converted her religion. Her name is Dipika Kakar only. She will change it to Dipika Ibrahim. I spoke to them personally. They have used Faiza only for the invitation cards."
As the card pic has gone viral over the internet the couple had been brutally trolled by the netizens.
Something which no liberal has ever been able to explain to me: How is it an inter-faith marriage when one side has to compulsory convert her/his religion before the marriage??

— Abhinav Prakash (@Abhina_Prakash) February 22, 2018
@ms_dipika Shoaib didn't accept Hinduism. Then why you changed your religion just for a man🤔
True love doesn't require religious conversion.

— It's me (@Bindiya_Agni) February 24, 2018
What was the need for conversion to marry... They must accept each other as it is... Such a shit.... https://t.co/j1wtR7SyYo

— Ravinder Gahlot (@gahlotzone) February 23, 2018
@ms_dipika are you doing Nikaah with @Shoaib_Ibrahim1 after converting to Islam or just marrying under special marriage act ? If converting to Islam then what is your new Muslim name ? #Conversion https://t.co/j7CdkmltEU

— soulkarma (@soulkarma) February 23, 2018
If conversion a precondition then can it be Love?

— Max Payne (@A08016624) February 23, 2018
"True love" requires conversion! @ms_dipika https://t.co/oSG9TON35L

— KejriRaGaTroll (@KejriRaGaSucks) February 23, 2018
she is a fool.her parents much bigger fool.before marriage her named changed. after marriage dress,food will be producer of children in wholesale.and will be slapped if she oppose any thing.RSS does nothing and bjp is the new congress

— rahul singh (@rahulsi41701833) February 23, 2018