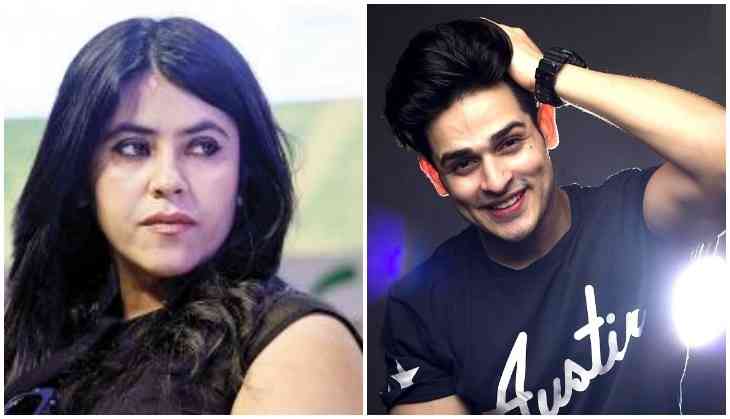 Ekta Kapoor-Priyank Sharma
Priyank Sharma who is hitting the headlines since his fight with Vikas Gupta is once more topping the list and this time he took a dig at Ekta Kapoor the Queen of the TV industry. Priyanka who is apparently flying high since he participated in Splitsvilla it seems the popularity has hit his brain. He is said to be the most unprofessional and mannerless person in the industry.
Recently, Ekta offered him to host the BCL (Box Cricket League) which is being organised by her itself. He was supposed to host the show with his girlfriend Benafsha Soonawalla, Faizy Boo (Faizal Khan) and Prateek Sehajpa from today at Film City. A few days back he flew to Goa and told Balaji team that he is going Vipassana and will return on the day of the event.
He was supposed to come today but at the last moment he ditched the team, yesterday late at night he called BCL Team to inform them that he would not be able to make it and he is backing out from the project. The team tried to convince him immensely but everything failed and now the matches are running late all thanks to Priyank.
Just because he backed out and informed the team late all burden went on to Faizy Boo (Faizal Khan), Prateek Sehajpa and his dear girlfriend Benafsha Soonawalla. They had to slaughter their night as they had to change the whole script so that next morning match runs smoothly.
A source said that this act of him is very unprofessional and should have done this to Ekta as she offered him one of the biggest projects to date.
Earlier, he was hitting the news for his fight with Vikas Gupta in JW Marriott (Juhu). Vikas said that Priyank blocked his way in the gym and even pushed him, Benafsha who was also present in the gym took his beloved boyfriend side and said that Priyank doesn't fight unless he is proved. This fight started from Puncch Beat Vikas directorial where we can see Priyank in the series, according to him Priyank is an unprofessional person and it was a bad experience working with him. He also added that due to his unprofessionalism led to extra shooting and cost.
This act of him has left everyone puzzled but someday or the other he had to face Ekta's anger as she is the queen of tv series and one day he has to explain on leaving her in a fixed position.
Also Read-
BARC TRP Report Week 13, 2019: Ekta Kapoor shows secured first two positions pushing Yeh Rishtey Hai