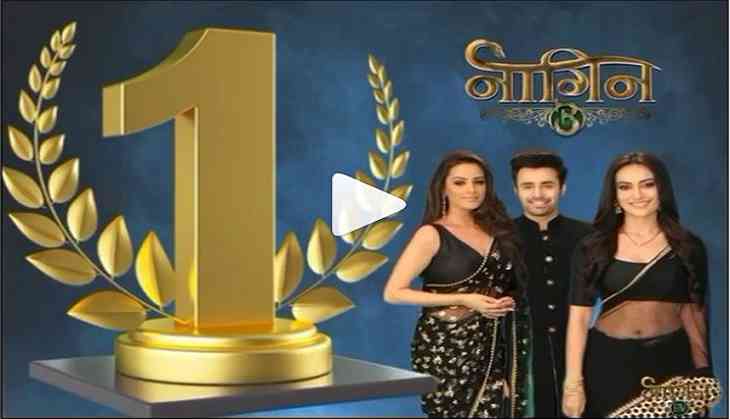 Every week BARC gives out TRP report that tells us which show became the most watched show of the small screen in the previous week and ever since the popular supernatural show Naagin 3 of Ekta Kapoor has begun, it has been topping the popularity charts just like the old seasons of the show Naagin and Naagin 2.
Yet again, the show has been on the top of the chart with Zee TV's Kundali Bhagya and KumKum Bhagya scoring the second and the third position on the list. The fourth position was grabbed by Dance Deewane of Colors channel and the fifth position was grabbed by Zee Anmol's KumKum Bhagya. For the detailed list, check this out:
ALSO READ: Bigg Boss 11 winner Shilpa Shinde's reaction after she came to know about Vikas Gupta being bitten by a snake is hilarious; see video
HINDI GEC (URBAN+RURAL) Impressions (000s)
1. Colors NAAGIN-3 16677
2. Zee TV KUNDALI BHAGYA 13148
3. Zee TV KUMKUM BHAGYA 12800
4. Colors DANCE DEEWANE 11426
5. Zee Anmol KUMKUM BHAGYA 11329
HINDI GEC
ALSO READ: Naagin 3: OMG! Maahir aka Pearl V Puri is the Naag Raaj and here's how his identity will be revealed!
1. STAR Utsav 672028
2. Zee TV 662938
3. Zee Anmol 652641
4. STAR Bharat 638043
5. STAR Plus 629941
6. Colors 602352
7. Sony Pal 582609
8. Rishtey 526501
9. Sony Entertainment Television 498865
10. SONY SAB 456529
HINDI GEC RURAL
1. Zee Anmol 512949
2. STAR Utsav 476194
3. Sony Pal 404831
4. Rishtey 388943
5. STAR Bharat 322204
6. Dangal TV 307573
7. Zee TV 261511
8. Big Magic 198768
9. Colors 184927
10. STAR Plus 179438
HINDI GEC URBAN
ALSO READ: Shocking! Sara Khan, after nude bathtub video gets admitted to the hospital; know why
1. STAR Plus 450504
2. Colors 417425
3. Zee TV 401427
4. Sony Entertainment Television 365339
5. SONY SAB 345253
6. STAR Bharat 315840
7. STAR Utsav 195834
8. Sony Pal 177778
9. Zee Anmol 139693
10. Rishtey 137558