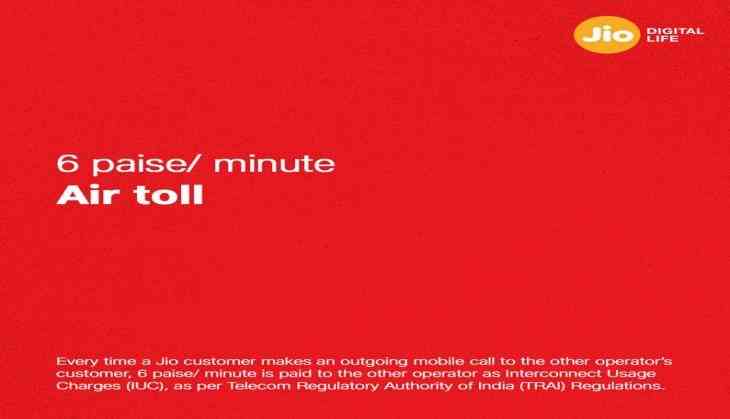 Days after Reliance Jio announces to charge its users 6 paise a minute for outgoing calls to other networks, the telecom networks with their social media campaigns are assuring their users free unlimited.
In a recent development, Airtel has called Jio 'Cute' on a Facebook post. Responding to Jio's Who's taking the toll?, Airtel called Jio You look cute in our colours.
Jio on Saturday posted a potshot, which says, "Everytime a Jio coustmer makes an outgoing mobile call to the other operator's customer, 6 paise/ minute is paid to the other operator as Interconnect Usage Charges (IUC), as per Telecom Regulatory Authorities of India (TRAI) Regulations."
Soon after Jio shared the post on its officials Facebook page, Airtel India commented on the post and said, You look cute in our colours. Later, Jio responded to Airtel's comment and replied, We are here to help. Please let us know how we may be of assistance to you.
Bharti Airtel on Thursday launched 'Ab toh Sahi Chuno' campaign on social media network after day after Jio announced that it would charge Interconnect Usage Charge (IUC) to its users.
Taking to Twitter, Airtel said: For some, unlimited means something else. For us, unlimited voice calls have always meant truly unlimited voice calls. Switch to Airtel now, followed by #AbTohSahiChuno.
Notably, Billionaire Mukesh Ambani's Reliance Jio on Wednesday said it would charge 6 paise per minute for voice calls made by its users to mobile phones networks of rivals like Airtel, BSNL and Vodafone-Idea after indications that call connect charge may not end by the previously mooted deadline of December 31.
Jio, in a statement, said the charge would last till such time that regulations require payments to rival networks for completing calls but added that it will compensate the users by giving free data of equivalent amount.
Also Read: After Jio announces to charge 6p/ minute, Airtel launches 'Ab Toh Sahi Chuno' campaign