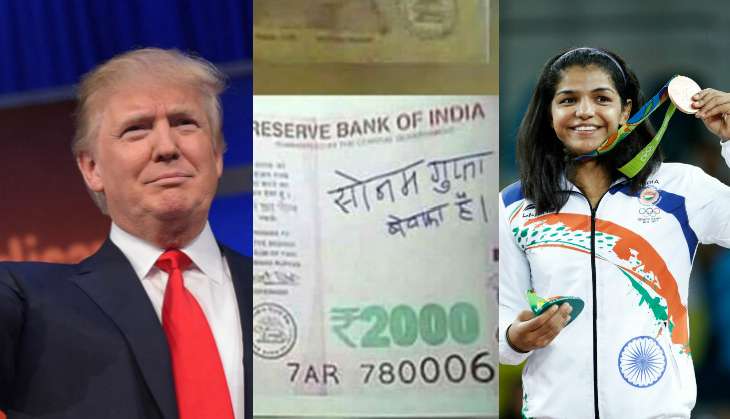 2016 was a year of surprises, upsets, and upsetting surprises. From Donald Trump winning the 2016 US Presidential Elections, to Bob Dylan winning Nobel Prize for Literature, to demonetisation in India and Sonam Gupta bewafa hai becoming an internet sensation, Google search was pretty inundated with queries of multiple kinds.
Like every year, this year too, Google India has released the list of top trending stories, biggest moments, major events and user interests of 2016, based on trillions of searches made by Indians on the search engine this year.
Rio Olympics 2016 rule
Rio Olympics emerged as the top sport in India making it the top trending search query on Google, as the sprawling nation of 1.3 billion moved beyond cricket and extended full support to India athletes participating in the mega sporting event of 2016.
Gotta catch 'em all
Pokemon Go, the game that took the world by storm was a close number two on the Google list. Surprisingly, Pokemon Go has been officially launched in India just a few days ago in collaboration with Reliance Jio. It will be interesting to see whether this actually makes any difference to its popularity or do people even care about it anymore!
All Trump-ed up
The US presidential elections have always been closely watched in India, but this year the interest was further heightened. US President Donald Trump, indisputably topped the list of trending personalities on Google.
Read more:Meme goddess, Sonam Gupta, now on Google's 'top 10 personalities' list
When women rocked it at the Rio Olympics
Indian female athletes made it to Google's top personalities list for their outstanding performance at the Rio Olympics 2016.
Indian badminton star and Olympic medalist, PV Sindhu took the second spot in the overall trending personality searches. Indian female wrestler and Olympic champion Sakshi Malik also featured among the Top 10 trending personalities on Google.
Sonam Gupta Bewafa Hai!
Surprisingly, the latest social media obsession Sonam Gupta, made an entry at third position. Sonam Gupta, a fictitious name, is synonymous with betrayal and ruled social media in 2016. Sonam Gupta Bewafa Hai appeared out of nowhere on a 10 Rupee note in August this year, and gained momentum right after note ban on 8 November. The name was back on a Rs 2,000 note with the viral tagline and ruled all social media platforms.
Sports, 'Sultan' Salman Khan, 7th Pay Commission, Demonetisation and more
India's first women gymnast to qualify for the Olympics, Dipa Karmakar took the fourth spot. Karmakar attained 4th position in Women's Vault Gymnastics event of Rio Olympics 2016. She was followed by Bollywood actress Disha Patani who recently made her Bollywood debut with Sushant Singh Rajput in a biopic on Indian cricketing star M S Dhoni.
India's rising involvement and interest in global issues is not only reflected in the historic win for Donald Trump in the US Elections or Rio Olympics 2016 but also in Britain's withdrawal from the European Union (Brexit).
The 7th Pay Commission, Demonetisation, and the surgical strike on terror groups by India in Pakistan on 28 September caught everyone's attention and generated a great deal of curiosity among Indians.
As far as entertainment is concerned, excellent performance by Sushant Singh Rajput and Disha Patani in the movie MS Dhoni: The Untold Story not just won them accolades but the duo also emerged on the top trending charts of male and female Bollywood celebrities.
Bollywood superstar Salman Khan with his blockbuster film Sultan captured the peak position among top trending movies followed closely by Rajinikanth's blockbuster movie Kabali. Shahid Kapoor starrer Udta Punjab, Akshay Kumar's Airlift and Ranbir Kapoor-Anushka Sharma starrer Ae Dil Hai Mushkil also made it to the Top 5.