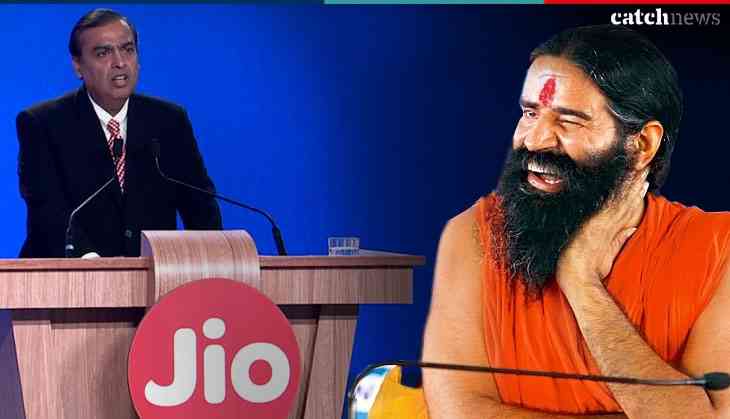 Famous Yoga guru Baba Ramdev is known across the country thanks to his FMCG products brand 'Patanjali'. His company Patanjali now stands as a tough competition for a number MNCs who have been facing a huge cut in their sales after Patanjali came into the market. Baba Ramdev has been dominating the market for his claims of his products having Ayurvedic Values.
However, Ramdev has surprised everyone with his latest announcement as he now plans to make roads in the telecommunication sector. Ramdev has launched 'swadeshi samriddhi' SIM card in partnership with BSNL.
Speaking about the latest developments, he said, the motives of BSNL and Patanjali are in the same line and will help each other in accomplishing their single objective that is the welfare of the country.
"There are five lakh counters of BSNL and from there people can soon get Patanjali Swadeshi Samriddhi card," Ramdev said.
The Company has announced that at a recharge of Rs 144 will let customers make calls across the country, along with that the users will also get 2GB of data and 100 SMSes daily.
Only Patanjali employees will be able to avail the benefits in the initial days. However, in the coming months, Patanjali will come with a full-fledged strategy to make its presence be felt in the market.
That's not all, it seems Patanjali has to put health on their agenda always and every time as they have also included a scheme of Rs 2.5 lakh worth of accidental and life insurance for all the Patanjali sim users. Moreover, there is a provision of Rs 5lakh insurance cover in case of death in a road accident.
The Rs 144 plan comes in the direct fight with the market leaders in terms of data rates, Jio. Who provide 1.5 GB of daily data at a price of Rs 149.
It will be interesting to see the clash of these two giants.
Also Read: Sachin Tendulkar named this bowler the best in the world