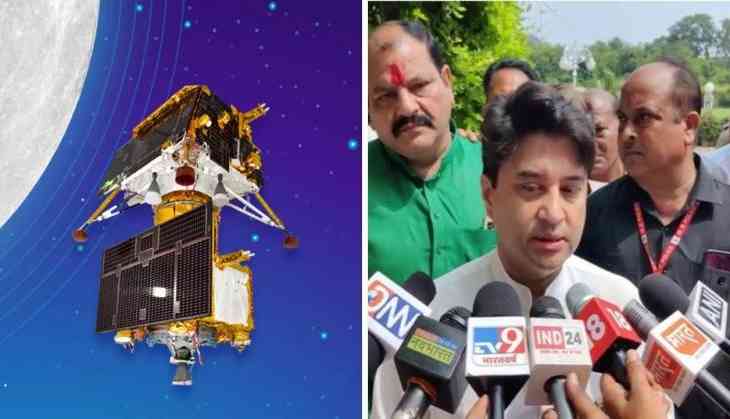 Union Minister Scindia on Chandrayaan-3
Gwalior (Madhya Pradesh): Union Civil Aviation Minister Jyotiraditya Scindia has said that the success of Chandrayaan-3 will be a great history created by Indian scientists and experts. Scindia made the remark while speaking to reporters in Gwalior on Tuesday.
"The success of Chandrayaan-3 will be a great history created by the experts and scientists of India. Under the leadership of Prime Minister Narendra Modi, India was achieving new heights, the Indian flag was hoisting not only inside the country but also on world platforms, but now it is our endeavour that the tricolour of India should be hoisted on the moon as well," Scindia said.
Meanwhile, the union minister Scindia also extended congratulations to all the experts, scientists and PM Modi ahead of the Chandrayaan-3 to land on the moon.
According to the Indian Space Research Organisation (ISRO), the Chandrayaan-3 is set to land on the moon on August 23, around 18:04 hours IST. Earlier, on Monday, ISRO chairman and secretary of the Department of Space, S Somanath called on Union Minister Jitendra Singh in the national capital, apprising him of the status and readiness of 'Chandrayaan-3' for the moon landing.
The ISRO chairman briefed the minister on the health status of Chandrayaan-3 saying all systems are working perfectly and no contingencies were anticipated on Wednesday, the scheduled date for landing on the lunar surface.
The health of Chandrayaan-3 will be monitored continuously, he said, adding that the final sequence of landing will be fully tested out. During the meeting, Union Minister Singh expressed confidence in 'Chandrayaan-3' making a soft landing this time, adding that he hoped that it would script a new history of planetary exploration under the guidance of Prime Minister Narendra Modi.
Live action will be available on the ISRO website, its YouTube channel, Facebook, and public broadcaster DD National TV from 17:27 IST on Aug 23, 2023. While the 'Chandrayaan-2 mission was only "partially successful" since the lander lost contact after a hard landing, ISRO successfully established two-way communication between the Chandrayaan-3 lander module and the still-orbiting Chandrayaan-2 orbiter.
The primary objectives of the Chandrayaan-3 mission are threefold -- to demonstrate a safe and soft landing on the lunar surface; to demonstrate rover movement on the moon, and to conduct in-situ scientific experiments.
Chandrayaan-3 mission was launched on July 14, 2023, via the GSLV Mark 3 (LVM 3) heavy-lift launch vehicle from the Satish Dhawan Space Centre in Andhra Pradesh's Sriharikota at 2:35 PM.

(ANI)