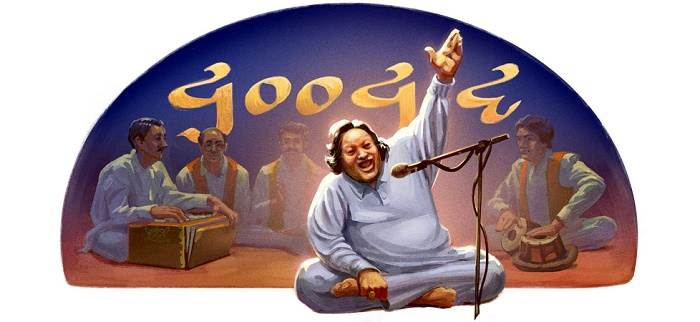 Google has paid a special tribute to legendary singer Nusrat Fateh Ali Khan on his 67th birth anniversary. Keeping up with the tradition, the late singer has his own personal Google Doodle for the special day.
Nusrat Fateh Ali Khan was born on October 13, 1948. He was a Pakistani musician, primarily a singer of qawwali, the devotional music of the Sufis.
In his short 48-year long life, Nusrat was regarded as the world's greatest qawwali singer. In 1987, Khan received the President of Pakistan's Award for Pride of Performance for his extensive contribution to Pakistani music.
Nusrat was well known for being able to sustain long performances, some that lasted up to ten hours. Jeff Buckley, a western music legend, said that Nusrat was one of his biggest influences. Buckley went on to call him his "Elvis" and often performed the first few minutes of one of Khan's hit songs at his concerts.
Nusrat Fateh Ali Khan popularized the traditional mystic qawwali, a form of sufi devotional music, most popular in South Asia. He also sang ghazals and indulged in jazz fusion. Some of his most famous songs include Kinna Sohan Tainu, Piya Re Piya Re, Gham Hai Ya Khushi, Mera Piya Ghar Aaya, Dum Mast Kalandar, Afreen Afreen and many others.
He died of a cardiac arrest at the age of 49 on 16 August, 1997, at the peak of his career.