Nita Ambani to be India's International Olympic Committee member. Seriously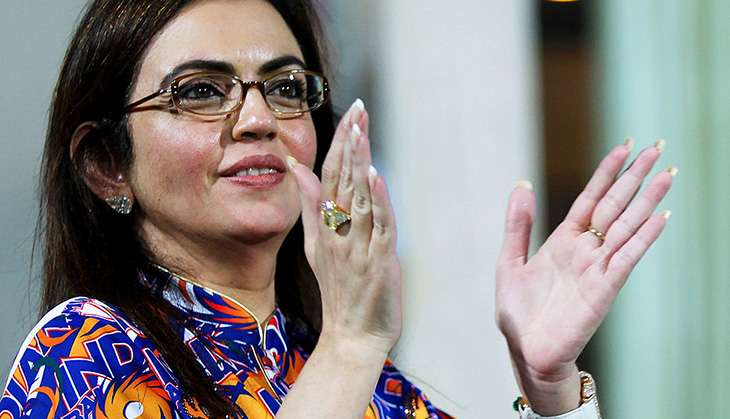 Well colour me shocked! Nita Ambani has just become the first Indian woman to be nominated to the International Olympic Committee (IOC). She has been nominated, and will be officially appointed during the upcoming Olympic Games in Rio de Janeiro.
Yes, you read that right. Nita Ambani, whose claim to fame is being the wife of the India's richest man, Mukesh Ambani.
What are her sporting credentials, you ask? She owns an Indian Premier League cricket team, the Mumbai Indians. Along with that, she is the founder and chairperson of Football Sports Development, which operates the Indian Super League.
Besides her stellar work as a promoter of sports in this country - and I say sports because the Olympics encompass a number of them - not much else is really known about her. Going by Wikipedia, that most reliable of sources, she's an art collector and has performed frequently as a bharatnatyam dancer. Who would've thought.
Sadly, that's all the information one can find on the lady that will be the pride of India at the Rio Olympics and in the years to come. Given how high-profile she is, it's a surprisingly thin page.
Reactions to the news
Before Mrs Ambani, India's previous representative on the International Olympic Committee was a six-time Olympian and an Asian Games gold medalist in shooting. His name is Raja Randhir Singh. He held the position from 2001-2014, thereafter becoming an honorary member.
On the news of her appointment came out, Randhir Singh told Catch: "We welcome the move to nominate Mrs Nita Ambani. She can potentially be of great help by becoming the face of the Olympic movement in India."
But the mood of sports lovers was summed up best by India's lone individual Olympic gold medallist, Abhinav Bindra.
First, at 5:44 PM, Bindra took to Twitter to offer what looked like a tongue in cheek comment:
Mrs Nita Ambani to be an IOC member from India ? How about sponsoring the Indian Olympic Team as a good will gesture !

— Abhinav Bindra (@Abhinav_Bindra) June 3, 2016
Then, 20 minutes later, came the 'goodwill' tweets:
Congratulations To Mrs Nita Ambani for her nomination to the IOC In "recognition of passionate work in education and sports"

— Abhinav Bindra (@Abhinav_Bindra) June 3, 2016
Really look forward to her passionate involvement in the better meant and development of Indian Olympic Sport !

— Abhinav Bindra (@Abhinav_Bindra) June 3, 2016
Finally, at 7:04 PM, he welcomed in a new era in Indian sports:
Lovely to see Bollywood coming out in full force felicitating Mrs ambani. Unprecedented love for the Olympic Movement! #new era

— Abhinav Bindra (@Abhinav_Bindra) June 3, 2016
Around the time Bindra was tweeting, the pinnacle of worship in our cricket-obsessed nation, Sachin Tendulkar tweeted a nice, congratulatory note. Tendulkar has spent nine years in close association with Nita Ambani and the Mumbai Indians, first as a player and then a mentor.
Congratulations #NitaAmbani on nomination to #IOC. Her passion for sports development is laudable. Proud moment for India & Women Power!

— sachin tendulkar (@sachin_rt) June 3, 2016
That's all well and good, till one takes a look at the list of people who have retweeted it, which, by the way, is 666 people long at the time of publishing this.
Scroll down a couple of times, and you will be hard pressed to miss the name of a wilful loan defaulter we all love to hate. Yes, none other than Vijay Mallya.
Will it serve any real purpose?
What else does one say about this appointment? One can only hope that it somehow helps in the development of sports in the country.
But who are we kidding? After all, the nation was divided upon finding out that beloved Bollywood actor Salman Khan was made India's goodwill ambassador to the Rio Olympics. When his press conference was happening, a lot of people outside the Indian Olympic Association didn't even know what it was all about. They just simply assumed it was another movie.
So, just wait for another round of 'nation wants to know' to add fuel to the debate on whether or not Nita Ambani deserves to be appointed to the International Olympic Committee.
Edited by Shreyas Sharma

More in Catch:
Rio Olympics 2016: AR Rahman is India's 4th Goodwill ambassador after Sachin Tendulkar, Abhinav Bindra & Salman Khan
Sachin Tendulkar roped in as India's goodwill ambassador for Rio Olympics
Indian Olympic Association: we don't profit from sports ministry's aid