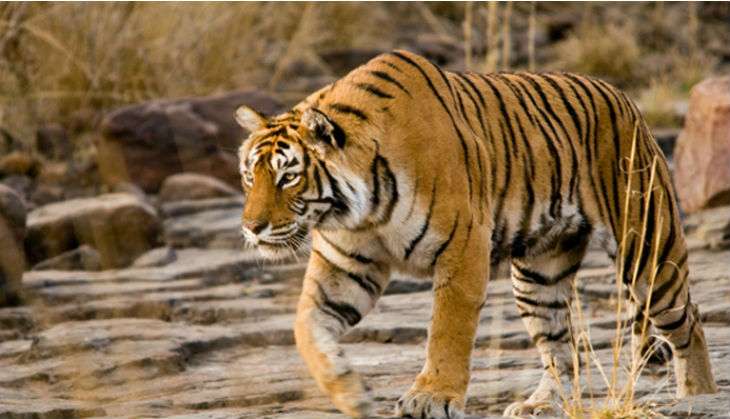 The 'queen of Ranthambore National Park', Machhli, is no more. The longest surviving tigress, who turned 20 this year, passed away after she was reported to be ill over the last few days. She earned the crown for being the most photographed tigress in the world.
Mother to 11 tigers, Machhli (also known as T-16) was born in 1997. Not much is known about her parents, except that her mother had a fish-shaped mark on her face, which is how she got the name Machhli (meaning fish).
The tigress was reported lying in a semi-conscious state, refusing to eat since the last four days.
In memory of the beautiful Machhli, here are 5 iconic images:
Photo Credit: www.ranthambhorenationalpark.in
1. Machhli was often spotted near the water body in Ranthambore, which is why she was also called the "lady of the lake".
Photo Credit: www.ranthambhorenationalpark.in
2. Macchli is famous for her fight with a 120-foot-long crocodile. She apparently killed the crocodile and even lost a couple of teeth in the bout.
Photo Credit: www.ranthambhorenationalpark.in
3. The average life term of a tiger is about 12 to 13 years. Machhli, who turned 20 this year, was almost as old as a 120 year old human being.
File Photo
4. Machhli, known to be a ferocious mother, had 11 offsprings - seven females and four males. She was responsible for increasing the tiger population in Ranthambore.
A male Tiger called T28 (left) and Machali (right) fighting in Ranthambhore national park in Rajasthan, India. This fiery clash between two tigers was caught on camera by an Indian Wildlife photographer, Aditya Singh at Ranthambhore Tiger reserve in the Indian desert state of Rajasthan. The fabulous dual that lasted less than a minute was a once in a life-time experience for the snapper. The fight ensued after a young male tiger, known as T28, snatched the kill of Machali, 14-year-old tigress. Despite being the older tiger, Machali held her ground and the growling duo started flipping, clawing, biting and scratching each other. Eventually, Machali had to surrender to the might of the younger, stronger T 28. (Photo by Aditya Singh / Barcroft India / Getty Images
5. In 2015, she won the "Lifetime Achievement Award" of Travel Operators For Tigers, for her contribution to conservation and tourist attraction.