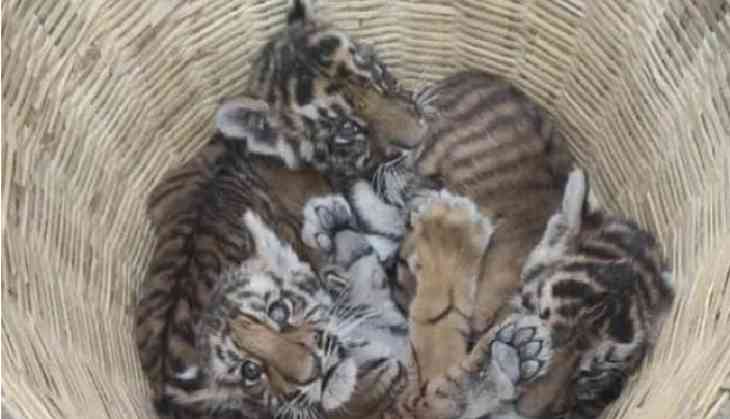 Four tiger cubs were rescued by the villagers in Andhra Pradesh'S Nandyal district ON March 6, as reported by ANI. The cubs were found at an agricultural field in Pedda Gummadapuram village and the villagers safely relocated them to a safe place while also informing the forest department.
The forest officials reached the place and took the tiger cubs into their custody. The cubs are healthy and aged about three to four months.
#WATCH | Andhra Pradesh | Four tiger cubs were found by residents of Pedda Gummadapuram village in the Nandyal district. The villagers shifted them to a safe place and informed the forest officials. (06.03) pic.twitter.com/0brXaiPly7

— ANI (@ANI) March 7, 2023
#AndhraPradesh: Four #tigercubs were spotted near PeddaGummadapuram village, #Atmakur forest in #Nandyal. These cubs were rescued by the villagers, kept in a room, and #forestdepartment were informed.

Hope they get reunited 🥺 pic.twitter.com/trn2m8TpWE

— karthikkare (@Karthik_kare) March 6, 2023
Meanwhile, forest officials are trying to reunite the cubs with their mother. They have installed camera traps to track the tigress.
"The tigress is roaming within a radius of 2 km around the area coming under Kothapalli Mandal in Nandyala district," a forest official told PTI.
Allso Read: Mesmerising: Watch devotees, priests play Holi with Mahakal during Bhasma Aarti
The officials are also taking precautions to not leave any human imprints on the cubs as the mother may sometimes reject them.