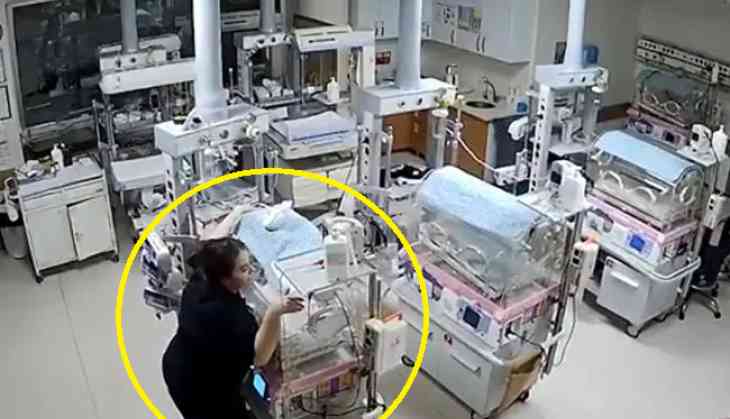 A video of two Turkish nurses running to protect infants during a devastating 7.7 magnitude earthquake has gone viral on the internet. The nurses, Devlet Nizam and Gazwl Caliskan, chose to protect the infants during the tremors instead of evacuating the building.
The entire harrowing incident was recorded by the CCTV camera installed inside the neonatal intensive care unit of a hospital in Gaziantep.
In the video, Devlet and Gazwl can be seen entering the intensive care unit when the tremors began. They immediately hold the incubators firmly to prevent them from falling due to the strong shakes. Their valiant effort prevented the incubators from tipping over.
The video was shared on Twitter by Turkey politician Fatma Sahin with caption, "Our healthcare professionals are amazing people. #GaziantepBüyükşehir İnayet Topçuoğlu Is there any word to describe the effort made by Nurse State Nizam and Gazel Çalışkan to protect tiny babies during the 7.7 magnitude #earthquake in the neonatal intensive care unit of our hospital?" (Roughly translated in English from Turkish).
Watch here.
Sağlıkçılarımız şahane insanlar👏#GaziantepBüyükşehir İnayet Topçuoğlu Hastanemiz yenidoğan yoğun bakım ünitesinde, 7.7'lik #deprem esnasında minik bebekleri korumak için Hemşire Devlet Nizam ve Gazel Çalışkan tarafından gösterilen gayreti anlatacak kelime var mı?

🌹🌼💐👏👏👏 pic.twitter.com/iAtItDlOwb

— Fatma Şahin (@FatmaSahin) February 11, 2023
Since being shared, the 48-second clip has garnered over 45,300 views and more than 2,900 likes. Users hailed the braveness and selflessness of both the nurses, praying for their wellbeing.
"God Bless her abundantly," a Twitter user wrote.
"Service over self, Brave women. God bless you both," wrote the second.
"Oh God, they are really doing great job without thinking of their own life," wrote another.
"Mashallah, they are so cool. God bless you," another wrote in Turkish.
The 7.8 magnitude earthquake and a series of strong aftershocks shook Turkey and Syria on Monday, causing thousands of fatalities. The devastating earthquake is ranked as the world's seventh deadliest natural disaster of this century, with the death toll rising to 29,000.
Several countries, including India extended their support to disaster-hit Turkey and Syria. The Indian Government has sent NDRF teams, relief materials and medical supplies to Turkey.
The rescue teams have rescued several people including minor children from the rubble and the operation is still going on.
Viral News: Hug Day 2023: From long distance hugs to cow hugs, check out top trending memes on Twitter