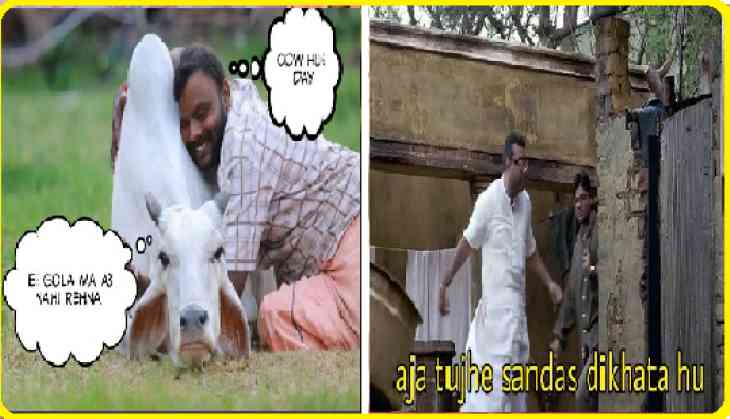 The most romantic week of the year, Valentine's Week, is here and people are celebrating every day with their special ones. Couples around the globe celebrate the week by expressing appreciation for the person they love and adore. The week offers numerous ways for lovebirds to show their feelings and affection.
Today is Hug Day, and as the name suggests, on this day, lovebirds hug each other to express their feelings. The day is not only celebrated by couples; even friends hug each other to show affection.
However, the Animal Welfare Board of India has requested that people hug cows on February 14th to celebrate the day.
Singles, on the other hand, celebrate the day by sharing funny and quirky memes on the internet.
We have curated some top trending Hug Day memes for you, have a look.
Happy Hug Day 🔥🚩#HugDay pic.twitter.com/MypufdawEZ

— RADHE ࿗🚬🇮🇳 (@Iamradhe_p00) February 12, 2023
HUG DAY...... pic.twitter.com/A00CFwlkPd

— Abhishek Sumanth! (@AbhishekSumant1) February 12, 2023
Today is Hug Day; Is it the day when Shivaji Maharaj hugged Afzal Khan ? pic.twitter.com/Wmtg9f2nn7

— We Hindu (@SanatanTalks) February 12, 2023
Hugging can boost the level of oxytocin hormone that decreases the feeling of loneliness, anger.. and helps us bond..#HugDay #hugday2023 pic.twitter.com/ihTR7aYmGP

— Naturally Sudhaish (@NaturallySudha) February 12, 2023
#HugDay #HugDay2022
She : Baby hug do na
He : pic.twitter.com/Vsxpyk5Six

— uffshanaya (@uffshanaya) February 8, 2022
Today is hug day
Mention your single friends and run
😂😂😂😂😂#hugday pic.twitter.com/oQjmSzjSkg

— Arbish (@ArbishsSiddiqui) February 8, 2022
Cow Hug Day 😭 pic.twitter.com/mpaptenuR2

— Ritushree 🌈 (@QueerNaari) February 9, 2023
Real time scenario on Feb 14th 😂😂😂 #ValentinesDay #CowHugDay #ValentinesDay pic.twitter.com/1PGQJ6YntQ

— Arun Sundar (@iamdarun) February 8, 2023
Terrified by the thought of our cowboys on the Cow Hug Day (Feb. 14) pic.twitter.com/HhggWpjKig

— R. Vijaya Sankar (@Vijayasankar_FL) February 8, 2023
When nobody hugs you on Cow Hug Day. pic.twitter.com/tYLWQ11Grt

— Advaid അദ്വൈത് (@Advaidism) February 8, 2023
This is how long distance relationship vale celebrate hug day....#hugday pic.twitter.com/478JybU32r

— K (@kuchbhibolegabc) February 12, 2018
Valentine's Week, considered as one of the most romantic weeks of the year, begins with Rose Day followed by Propose Day, Chocolate Day, Teddy Day, Promise Day, Hug Day and Kiss Day. The week ends on February 14 with Valentine's Day.