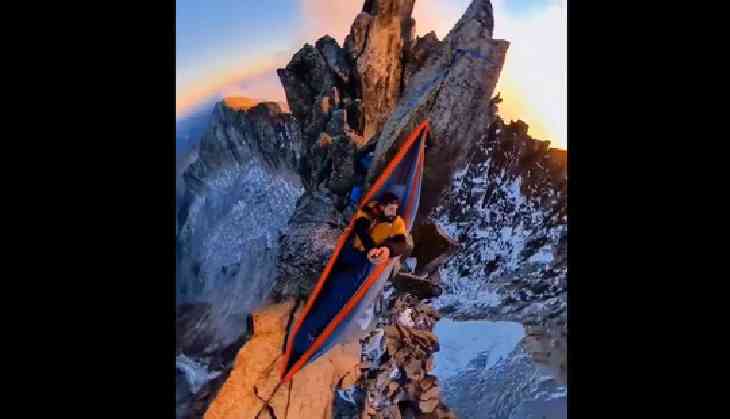 man tucked a hammock between two mountains
Imagine yourself relaxing in a hammock at a beautiful beach while sipping your favourite beverage—soothing, isn't it.
Let's change the situation, imagine that you are still lounging in your hammock, but this time it is tucked between two mountains, and the ditch is hundreds of feet deep. A video showcasing a man in the same situation has gone viral on social media.
In a video clip, a man has tucked his hammock between two short mountains. As he is lounging in the hammock, he shows the hair-raising steep view that surrounds him.
Such clips are proof that adventure enthusiast are ready to do anything for that adrenaline rush.
The terrifying clip was shared on Reddit by user who goes by the name @solateor with the caption, "Hammock atop the Pyrenees in Spain."
Watch the thrilling video here.
Since being shared, the clip has accumulated 7,800 likes and plethora of comments. Some Reddit users praised the man for his bravery, while others mocked him.
A user wrote, 'But how do you get down? He looks pretty high up above the rock.'
Another wrote, 'I had my hammock of 3 years rip in half when I was 3ft in the air, so this one scares me a little.'
A user just suggested others to not to try it. 'I'm a paraglider pilot, and I'd NEVER do this. I sit in my seat 3000 feet above the earth, and there's no way I could be in that hammock.'
What are your thoughts about the jaw-dropping video?