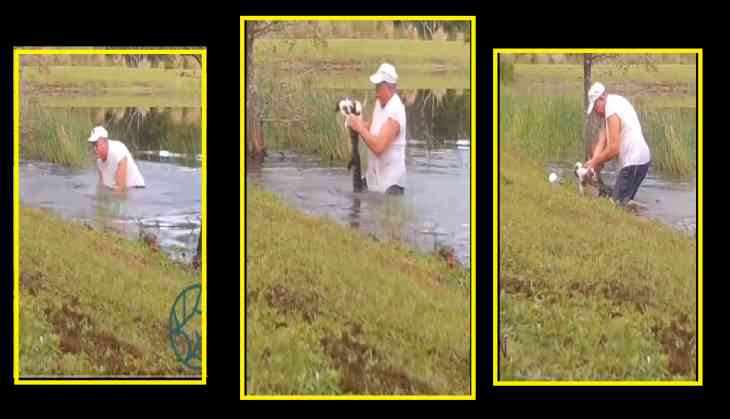 Alligators are one of the most brutal predators of the wild and they can hunt down any creature that comes near their territory.
Florida is home to thousands of alligators, and spotting giant alligators barging into residential areas in the search of food is not a big deal.
An undated video of a 74-year-old man has emerged on the internet, and he is getting praises for all good reasons. Richard Wilbanks jumped into a pond and rescued his pet dog from the jaws of a small alligator who had grabbed the poor pooch and went underwater. Alligator got hold of the dog when Richard was walking his dog near the pond.
In the clip, Richard could be seen jumping in the pond, grabbing the alligator with his jaws and pulling it out from the water. The 74-year-old then used all his all strength to open the reptile's jaws and save his doggo. After a few moments of struggle, the elderly succeeded in saving his dog's life.
Watch here.
Florida man rescues his dog from an alligator 😳 pic.twitter.com/A0nJc9VBiK

— POP O'CLOCK (@pop_o_cIock) March 17, 2023
The unique clip was shared on Twitter by an account named @Popoclock with the caption, "Florida man rescues his dog from an alligator".
Twitter users praised the man for rescuing his dog's life. Some even joked that Richard rescued his dog without losing his cigar in his mouth.
Also read: Viral Video: Man trying to kick poor dog gets instant Karma; internet says deserved it