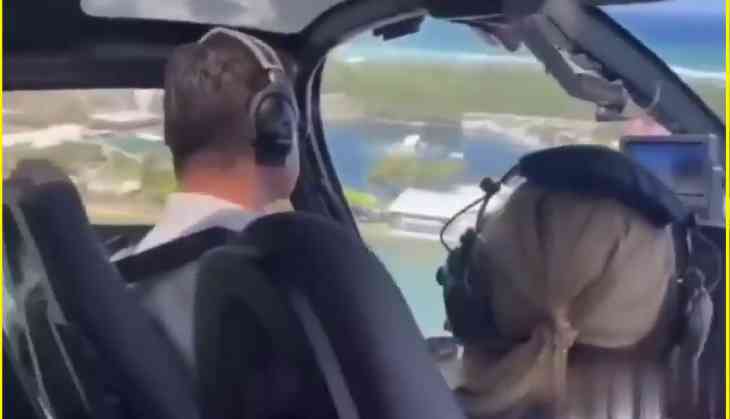 A shocking video has surfaced on the internet, showing the collision of two helicopters midair that has left people terrified. The video was filmed by one of the passengers who was inside one of the helicopters.
According to reports, the incident occurred in January of this year at Australia's Gold Coast, involving two Sea World tourist flight helicopters.
The 25-second clip shows the moments leading up to the collision that claimed the lives of four people, including the pilot, Ash Jenkinson, British couple Ron and Diane Hughes, and Vanessa Tadros from Sydney. Three passengers sustained critical injuries in the incident.
In the clip, one of the passenger, who was sitting at the backside of the chopper, could be seen pointing to something outside the window. In the next moment, he could be seen alerting the pilot possibly of the nearby helicopter and then the unfortunate crash happened.
The very next moment, the helicopter collided with chopper midair. Glass can be seen shattering as soon as another chopper collided with the helicopter.
Warning: Some people may find the clip distressing. Discretion is advised.
Watch here.
2 helicopters collide in the air pic.twitter.com/hCNS19hGBH

— OnlyBangers (@OnlyBangersEth) March 4, 2023
Since being shared the clip has accumulated more than 21.9 million views and more than 1,12,000 likes. The terrifying clip has also prompted Twitter users to express their thoughts in the comment section.
Here are some comments.
Reasons why I don't choose flying as a leisure.

— Derusni (@Derusni) March 5, 2023
Wow! I hope everyone is okay!

— LaShanda McCuin (@LaShandaMcCuin) March 6, 2023
This is WILDDD. I'm just baffled at howwww

— Ficofinesse (@ficofinesse) March 5, 2023