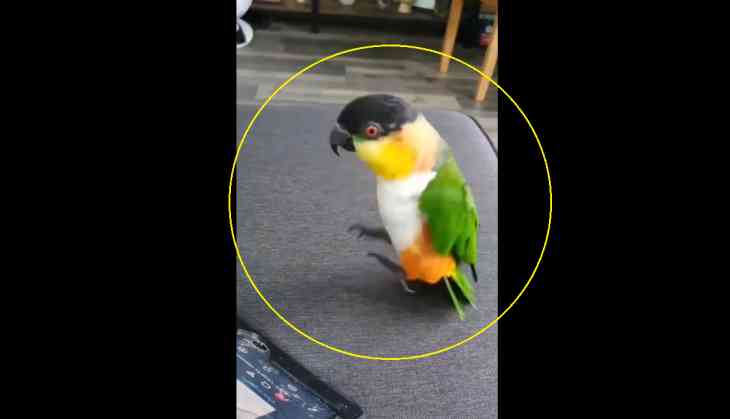 If we talk about funny birds, parrots will surely top the list. These feathery birds' crazy antics and amazing mimicry skills makes us laugh out loud.
In this video, a parrot can be seen trying to get attention of its owner by doing some unusual antics. The clip shows that the feathery bird continuously hipping on a desk to grab its owner's attention. The funny background sound and the parrot's antics are sure to make your day.
Also Read; Viral Video: Internet just finds out its real life 'kung-fu Panda'
Watch here.
Happy bird.. 😅 pic.twitter.com/3GN2s1wEhC

— Buitengebieden (@buitengebieden) March 9, 2023
The slip was shared on Twitter by an account named @ Buitengebieden along with the caption "Happy bird.."
In the second video a parrot could be seen disturbing its owner in a cutest possible way. The owner was possibly working from home when this cute evil climbs on her laptop and started hopping on the keyboard. The owner even grabbed the parrot and put it aside, but the parrot, climbs on the laptop again and continued hopping. The clip was a reply to the parrot hopping video.
Same bird? He seems to love bouncing. Needs a trampoline pic.twitter.com/Jy396AzDIf

— Protect kids, not guns (@Quest2017) March 9, 2023
Here are some interesting comments.
Unauthorized footage of me dancing. Please remove.😡

— Ed Ruffin (@Ruffin_Shot) March 9, 2023
... Goodnight friends, 🦜🎼🦜🎼🦜🎀 pic.twitter.com/ahJLrTScDM

— Sylwia M. (@SMmaja47) March 9, 2023
don't hate me for this! pic.twitter.com/ls2p8yAKNr

— KB (@starquenched) March 9, 2023
Happy happy happy 🎶 🐦 pic.twitter.com/95Q7qp2Gv0

— Sarah, esperando... 🙏❤️🇺🇦🐈‍⬛🐕🦋 (@SahSarai) March 9, 2023