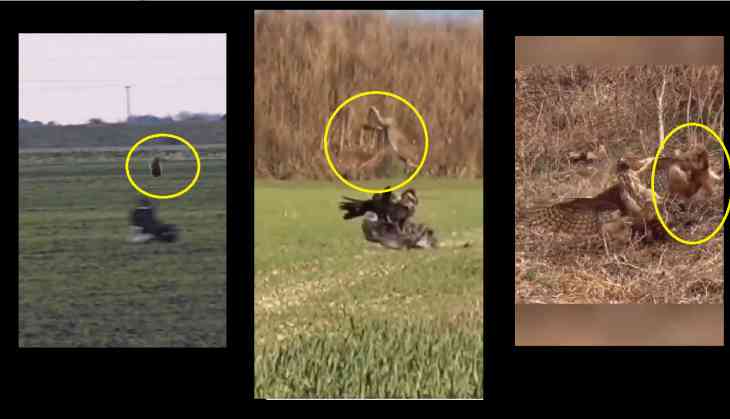 We have all seen Chinese kung-fu movies in which the hero engages in brutal fights with villains and uses animal martial arts to defeat them.
We all love to watch these movies, but what if an animal shows the same kung-fu in real life? A video has surfaced on the internet in which a rabbit can be seen performing some impressive moves to dodge attacks from an eagle.
In the 1-minute video, a bunny can be seen jumping and performing some acrobatic moves to dodge an eagle that tries to hunt the furry rabbit in an open field. The rabbit has nowhere to hide as the field is flat and does not have any trees or long grass to hide behind. The eagle attacks the rabbit multiple times, but every time the animal evades the attack by performing some impressive acrobatic moves.
Also watch: Watch sky fills with crows when this 'Bhopali crow whisperer' calls them
Watch here.
Anti defence mechanism in hares 😍 pic.twitter.com/xeSZ5uNknr

— Clement Ben IFS (@ben_ifs) February 7, 2023
The clip was shared by a Twitter user who goes by the name @ Clement Ben IFS with the caption, 'Anti defence mechanism in hares'.
Since being shared the clip has raked up over 37,400 views and more than 600 likes. The comment section is fill with applauds ad praises for the little bunny.
Here are some interesting comments.
Amazing

— RAJESH ASHAR (@rajeshashar) February 7, 2023
Never seen a eagle lost to someone🧐🧐

— Vvvv (@ZyxwuvtsrVvvv) February 8, 2023
To survive in this world just be as fast as hare 😊 so much to learn.

— Ranjana (@Ranjana03958892) February 8, 2023
What a jump 👏👏👏👏👏👏

— Princi (@ManjulSmita) February 7, 2023
Kung fu jump

— Naimish (@nmkobiya024) February 7, 2023