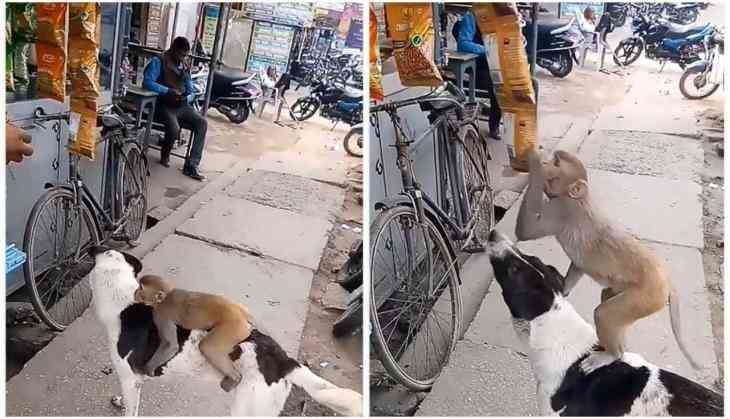 Monkeys are intelligent but mischievous creatures. We have often heard and witness many instances where monkeys venture into cities to steal food. As Indians, you might have also seen monkeys barging into people's home to steal or raid your fridge for food.
A hysterically funny footage is going viral where a monkey can be seen using a clever idea to steal food. The clip was uploaded on Instagram by the page 'memes.bks' with the following caption: 'Who says monkeys and dogs are not good friends?'. It has received thousands of views and likes.
The video displays a monkey taking the help of a friendly stray dog to steal a packet of chips.
The monkey could be seen on the dog's back and then reaching for the packet of chips. However, the monkey looses its balance and falls of the dog, but climbs back on top of it to try stealing the chips again.
Watch the video below:
The 🐒 trying to pick up a packet of chips with the help of 🐕 is the cutest thing you will watch today ❣️❣️. #goodmorning #dog #dogs #monkey #monkeys #animal #AnimalLovers #cute #lovable #adorable #friendship #bond #team pic.twitter.com/bkMAEU13NC

— Tarana Hussain (@hussain_tarana) May 8, 2022
A video of a wild monkey riding its favourite dog everywhere actually went viral on social media two years back.
The video was uploaded by The Dodo on YouTube and garnered more than 10 lakh views and more than 17,000 likes.
Also Read: CNN news anchor breaks down in tears reporting live on Buffalo mass shooting [Watch]