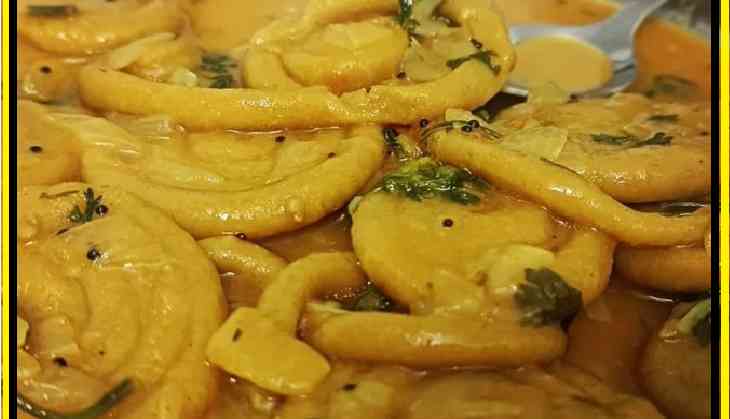 The internet is flooded with bizarre food experiment videos and pictures, from 'Samosa Gulab Jamun' to 'Rooh Afza Maggie'. To add to this, a picture of a new bizarre fusion is going viral on social media.
Indians have a history of enjoying the traditional dessert jalebi, which is made even more decadent when combined with Rabri. We all love its sugary taste, but just imagine if somebody puts masalas in the dessert and serves you? It will surely spoil your appetite.
Well, believe it or not, masala jalebi has made its place in the 2022 bizarre food experiment list just before the year wrapped.
In the picture, everyone's favourite jalebi can be seen dipping in a spicy-tangy gravy. The dessert seems to have become soggy. The bizarre culinary is also garnished with green coriander.
The pic of the bizarre dish was shared by a Twitter user who goes by the name @MayurSejpal with caption asking, 'anyone want masala jalebi'.
Anyone want masala jalebi? pic.twitter.com/r1SzuQCD0y

— Mayur Sejpal 🇮🇳 (@mayursejpal) December 26, 2022
Since being shared, the picture has been viewed 28,000 times and has tons of comments. Surprisingly, 75 users liked the pic.
Also Read: Cold Wave in North India: Will weather play spoilsport in your New Year plans? Check forecast here
Take a look at some funny comments.
"Agar IPC me food crime ki koi section hoti to aaj aap pakka andar hote. (If the IPC had a section of food crime, then you would surely be in jail for this)," wrote a Twitter user.
"Jalebi is a sweet dish .... please don't add the masala." A third person wrote, "God may forgive you for this, but I will never," commented another.