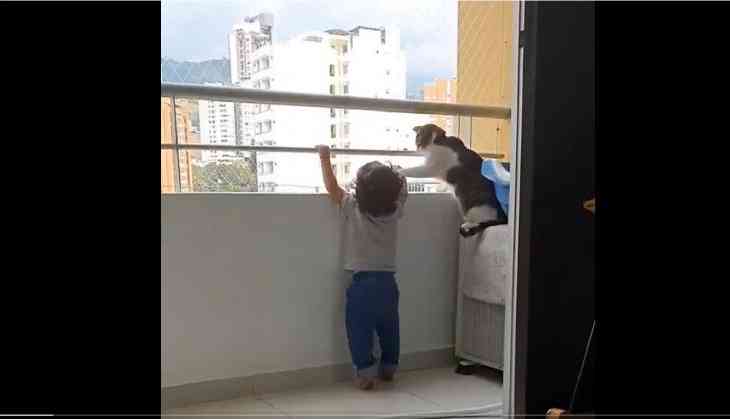 We all see viral videos of cats in which these furry feline could be seen resting, eating and not following commands of their owners. Some clips also showcase these animals slapping their owners with their paws.
Not only that, hashtags like 'cats are evil', 'pure evil', and 'cats are selfish' are also very popular on the internet, describing the disadvantages of petting these felines.
But, we have a clip that can debunk all the above mentioned rumours about these cuties.
In this 27-second clip, a cat could be seen stopping a toddler trying to climb on a balcony of a high-rise building. The video starts with a toddler and a cat enjoying the view from the balcony. In the next moment, the kid could be seen trying to climb the safety rods of the balcony. The feline, who was noticing the toddler, immediately swung into action and stops him. When the child again tries to grip the roads, the furry feline risks its life and stops him by walking on the narrow balcony wall and covering the safety rods with its body.
While doing this, the cat could be seen hitting its head in the safety rod. Still it continues the effort of stopping the child. Eventually the animal succeeded in stopping the toddler.
Lovely video. 😍

Who would like to hire this bodyguard? 🤣#CatsAreFamily pic.twitter.com/k0ipo7pbVw

— PostLo.com (@postlo) February 22, 2023
Notably, safety net is also visible in the clip, so there was no risk of the toddler to fall from the balcony but still the cat risks its life for him. It shows the affection between the pet and their 'hoomans'.
The clip was possibly filmed by the toddler's parents.
The video was shared by a twitter account named @postlo.com with the caption, "Lovely video. Who would like to hire this bodyguard?"
Since being shared, the clip has accumulated more than 1.2 million views with over 15,500 likes. People praised the little feline's effort of saving the child and filled the comment section with heart emoticons.