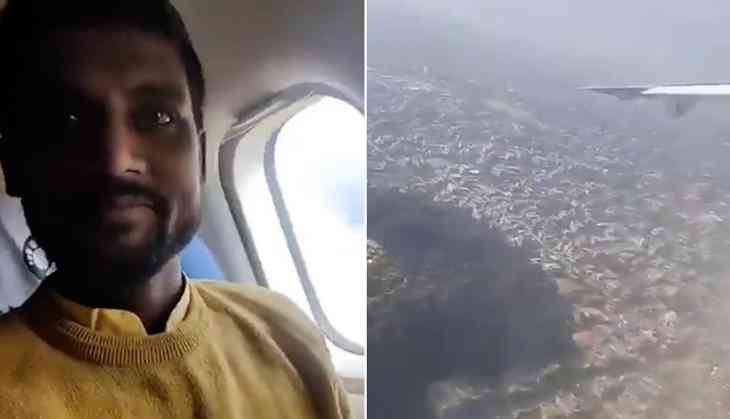 Final moments of deadly Nepal plane crash.
Four of the five Indian passengers on the Yeti Airlines plane that crashed in Nepal's Pokhara on Sunday were live on Facebook to share their experience on the flight, minutes before the aircraft went down. All four passengers were natives of Uttar Pradesh's Ghazipur.
In the minute long video, one of them can be heard excitedly shouting "Mauj Kar Di" (it's been fun) as the camera pans towards Pokhara town below.
The phone camera also focuses on one of them, identified as Sonu Jaiswal, aged 29. After 58 seconds, however, the video shows aircraft taking a sharp turn towards the left and then crashing and turning into flames. As the phone camera continued to record, it caught glimpses of flames around it.
Sonu Jaiswal, Anil Rajbhar, Vishal Sharma, and Abhishek Singh Kushwaha had landed in Kathmandu on January 13 and after visiting the Pashupatinath temple, they were heading for Pokhara for adventure sports.
Sonu Jaiswal was a trader while Anil Rajbhar and Abhishek Kushwaha managed Jan Sewa centres at Zahoorabad and Alawalpur. Vishal Sharma was a finance officer at a private agency.
Here's the video:
🚨Trigger Warning.

The guy who's shooting this is from Ghazipur India. Moments before the crash. pic.twitter.com/hgMJ187ele

— Gabbar (@GabbbarSingh) January 15, 2023
It was Sonu's Facebook profile where the video was streaming live, confirmed by his cousin Rajat Jaiswal.
"Sonu was on Facebook live after boarding the flight for Pokhara. The live-streaming showed that Sonu and his companions were in a happy mood but suddenly, flames appear before the streaming stopped," he said.
They were informed by the Ghazipur district magistrate office about the death of four men from the district in the plane crash.
SHO, Baresar, Devendra Pratap Singh, said that they confirmed the identity of the four and then he visited the house of Anil Rajbhar, and met his father identified as Ramdharas.
"Ramdharas told us that the four -- Anil, Abhishek, Vishal, and Sonu -- had left for Nepal on January 13 and planned to stay for a week," Singh said.
Circle officer, Kasimabad, Balram Singh, said that he along with the SDM visited the home of the four men and assured their families of all cooperation in bringing back their bodies.
Abhishek's elder brother Abhinay said, "In the past three hours, we have received calls from the Nepalese and Indian embassies. We have been informed that bodies will reach Delhi on Monday morning."
Also Read: Nepal plane crash: TikTok video of airhostess shot moments before crash goes viral [WATCH]