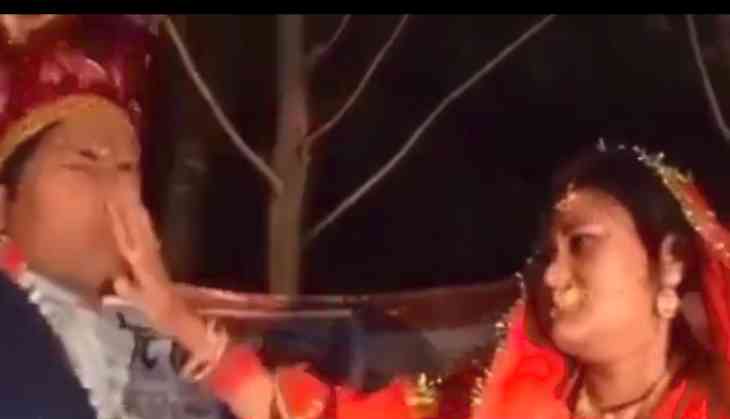 A full-scale fight flared up between a bride and the groom while the camera was filming a special moment at their wedding. A video of the fist fight was shared by actor and comic Sunil Grover, who in trademark style, asked the couple not to fight since their journey together had just started.
The video displayed the groom asking the cameraman to click a picture as the bride offered him sweets. Instead of paying attention to the sweets or the bride, the groom stared at the camera.
Watch video here:
Evidently irked, the bride rubbed the sweet on his face. The angry groom retaliated by punching her. Not one to hold back, the bride punched him back on the face. The punch was so hard that, for a moment, the groom held his cheeks.
Then, a series of blows from both sides followed and the camera did not miss anything. The clip appeared to be edited for sound effects to match the punches.
"Don't get angry. (Your) life has just begun. By the way, all 36 gunas of this couple match," Sunil Grover captioned his post.
The post has garnered many interesting and funny comments. One user said, "They are just saying 'I love you' to each other."
"Triple H vs Stephanie McMahon," said another.
One user suggested what the man would tell his children when they would ask how their parents met and what this fight was all about.
"And kids That's how I met your mother," the user commented.
Also Read: Lock Upp: Payal Rohatgi reveals she tried to cut her hand; shares more shocking details about her Bigg Boss journey