Microsoft Surface Book 2 is official; upgraded internals and two screen sizes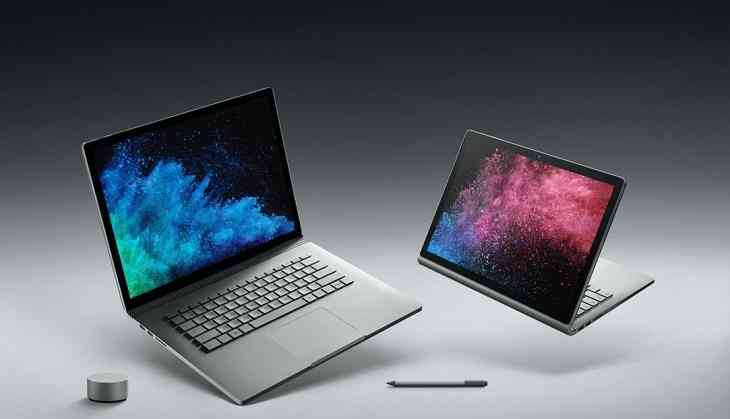 Microsoft knows that the holiday season is the most important in terms of sales. With this in mind, Microsoft is heading into it armed with new Surface computers. It's not what one would expect. It's not an updated to the Surface Pro two-in-one machine. Neither is it another slick version of the Surface Laptop. Instead, what you're getting is the Surface Book 2. Slightly bigger and bulkier. It's got a detachable screen and a keyboard dock.
The Surface Book is known for having a lot of computing power and an excellent battery life and is being pitted against Apple's MacBook Pro. This time around, the Surface Book 2 comes in the original 13-inch size as well as a brand new 15-inch version. It's one of the first PCs out there to get Intel's eight-gen processors. The new Surface Book's were announced alongside the Windows 10 Fall Creators Update.
The Surface Book 2 models offer twice the performance of a similar Apple MacBook. In fact, the Surface Book 2's are touting 70% better battery life and an even brighter, higher-resolution display.
Inside the tablet, half are the CPU and other main components. Hidden in the keyboard dock is an extra battery along with a dedicated Nvidia graphics card. The 13-inch version comes with a Nvidia GeForce 1050 (with an option for a cheaper integrated graphics) and the 15-inch gets a Nvidia GeForce 1060, which is the default.
Some of the other specs common on both models are:
Dolby Atmos sound for headphones
8-megapixel rear camera and 5-megapixel front camera
Bluetooth 4.1
2 USB Type A port, 1 USB Type C port
SD card slot
Windows Hello login support
Backlit keyboard
The 15-inch model has a display with a 3240x2160 resolution and a 260 PPI pixel density. It comes with the top of the line 8th gen Intel Core i7 8650U quad-core processor coupled with 16 GB RAM. It also comes with three SSD storage - 256GB, 512GB, 1TB - variants and measures around 23mm thick and weighs 1.9kg.
The 13-inch model comes with a slightly lower resolution display. it comes in at 3000x2000 pixel density. The base model of the 13-inch comes with Intel's 7th generation Core i5 7300 U processor and 8GB RAM. The highest variant comes with Intel's 8th generation Intel Core i7 8650U processor and 16GB RAM and the same three storage variants as its bigger brother.
Both models come with support for the Microsoft Pen stylus, which is being sold separately.
The Surface Book 2 starts at $1,499 for the 13- and $2,499 for the 15-inch. The Surface Book 2 will be available on 16 November.