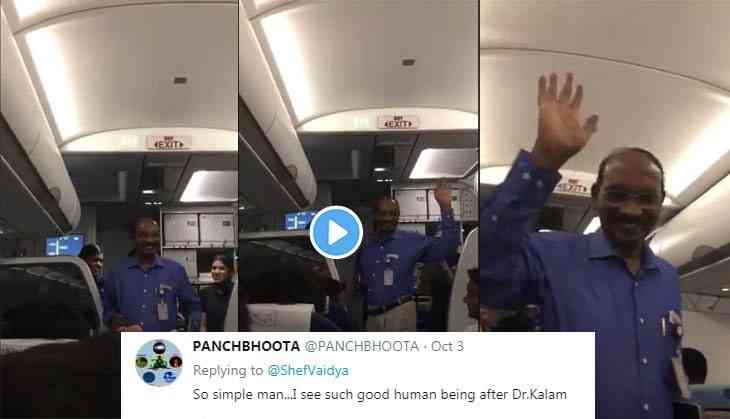 Indian Space Research Organisation (Isro) chairman K Sivan, the proud of the nation, has been hitting headlines for his commendable work for ISRO's Chandrayaan 2 mission. Also, he has become the celebrity of the nation.
Recently, a video is doing the round on social media platform, in which Sivan can be seen receiving the welcome from passengers in Indigo flight.
The affection that he received from passengers proved that he is the hero of the country.
In the video, people can be seen taking a selfie with the Indian Scientist and also taking his autograph.
The video was shared on Twitter by author Shaifali Vaidya with a caption, "It is so heartening to see ISRO chief #Sivan sir being given a hero's reception in a flight!!"
See video:
It is so heartening to see ISRO chief #Sivan sir being given a hero's reception in a flight!! pic.twitter.com/IJth3RTaxI

— Shefali Vaidya ஷெஃபாலி வைத்யா शेफाली वैद्य (@ShefVaidya) October 4, 2019
The 90-second video was captured in an Indigo flight. When the cabin crew in the flight realized the presence of K Sivan then, they started taking selfies with him. Soon, the rest passengers on board recognize ISRO chief and started taking his pictures.
While turning back to his seat, the entire flight applauded K Sivan.
His expression and simplicity have sought the attention of netizens.
Many users have compared him with Dr. APJ Abdul Kalam.
Check out reactions:
we started celebrating our real hero's.. desh badal raha hai 🙏

— kabir100mani (@kabir100mani) October 4, 2019
So proud moment 🙏👌Our Bharat is changing 😊🤗Earlier only film stars and cricket stars used to get such reception. We are heading in the right direction 😊

— Sahana(Renuka)Holimath (@SHolimath) October 4, 2019
So simple man...I see such good human being after Dr.Kalam

— PANCHBHOOTA (@PANCHBHOOTA) October 4, 2019
Such a simple man he is. Absolutely no superiority complex, no attitude even though he is one of the greatest brains of country. Child like innocence.. Salutes to you Sir

— Kishor Bhat (@KishorPolya) October 4, 2019
Good to see India changing and true celebrities are being recognised and applauded.

— Shamendra Bhadauria 🇮🇳 (@ShamendraSingh) October 4, 2019
It's so very pride moment... remember when Abhinandan's parents were given such adulation when they were enroute to Delhi... We owe soooo much to these people n moments..Jai Hind 💪💪💪

— Pradeep Shukla (@Pradeep0114) October 4, 2019
Real heros getting acknowledgement n not only the reel ones.#MeraDeshBadalRahaHai#ModiHaiToMumkinHai

— Anchal Agrawal (@Anchal_Agra) October 4, 2019
ISRO launched its second lunar mission on July 22, 2019 and on 7th September, ISRO lost its contact with the Vikaram Lander. After announcing the painful news, Sivan was spotted in teary eyes and also PM Modi consoled him and applauded him and his team for the efforts.
Also Read: Chandrayaan 2 latest update: 'Orbiter performing very well', says K Sivan