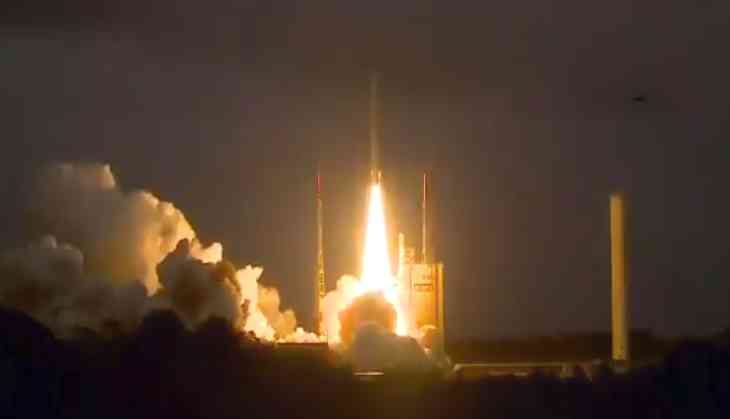 It must be a proud moment for Indians as country's heaviest satellite GSAT-11 was launched successfully from the French Guiana on Wednesday early morning, the Indian Space Research Organisation (ISRO) said.
Update #3#ISROMissions#Ariane5 VA-246 lifted off from Kourou Launch Base at 02:07 am (IST) carrying #GSAT11 and after a 30-min flight, GSAT-11 separated from upper stage in an elliptical Geosynchronous Transfer Orbit. Achieved orbit very close to the
intended one. pic.twitter.com/UjpgOhNK5X

— ISRO (@isro) December 5, 2018
After this successful launch, there are the expectations that the Internet speed will boost up.
The rocket has been launched by an Arianespace rocket from the French Guiana.
At around 02:07 am (IST), the Ariane-5 vehicle-injected GSAT-11 into the orbit in a flawless flight lasting about 33 minutes.
As per the Indian space agency, "ISRO's heaviest and most-advanced high throughput communication satellite GSAT-11 was successfully launched from the Spaceport in French Guiana during the early hours today."
Here's the video of #Ariane5 VA-246 lift off from Kourou Launch Base early today morning carrying India's #GSAT11 and South Korea's GEO-KOMPSAT-2A satellites, as scheduled, ISRO wrote.
Watch Video:
Update #4#ISROMissions

Here's the video of #Ariane5 VA-246 lift off from Kourou Launch Base early today morning carrying India's #GSAT11 and South Korea's GEO-KOMPSAT-2A satellites, as scheduled.

Video: @Arianespace pic.twitter.com/h0gjApbHHd

— ISRO (@isro) December 5, 2018
Also read: NASA lands a new robot on Mars to study another world's deep interior; check out latest visuals