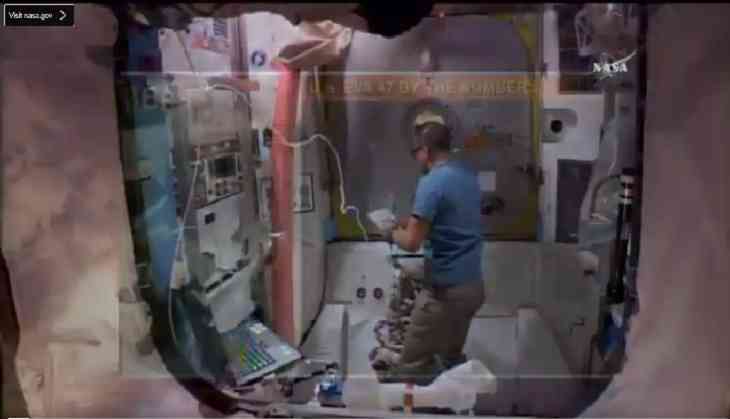 International Space Station(ISS) has successfully wrapped up the first spacewalk by NASA astronauts on 23 January 2018. This is the year's first walk in space while working on the robotic arm.
NASA's two astronauts Scott Tingle and Mark Vande Hei, Expedition 54 crew members aboard the ISS. According to the reports, they spent around 6.5 hours outside the space station.
These two astronauts were tasked with replacing one of the two 'hands' on the end of latching end effectors (LEEs) or Canadarm2. As the old one LEE-A had suffered from wear and tear.
In support of the ISS assembly and maintenance, spacewalks are the events that are initiated by the science and space for consecutive expedition launch.
Check out the video release by the ISS on twitter:
.@Astro_Sabot and @Astro_Maker are cleaning up their worksite and nearing the end of the spacewalk having swapped robotic hands on the Canadarm2. https://t.co/yuOTrZ4Jut pic.twitter.com/fGOK4Fk4K0

— Intl. Space Station (@Space_Station) January 23, 2018
The first spacewalk of 2018 saw the replacement of a robotic hand on the Canadarm2. It was also the 206th spacewalk in support of station maintenance since December 1998. https://t.co/yopIUDpLuf pic.twitter.com/frkHYXcfLo

— Intl. Space Station (@Space_Station) January 23, 2018
The two spacewalkers have spent a total time on working outside the station about 53 days, 13 hours and 49 minutes in support of assembly and maintenance of the orbiting laboratory.