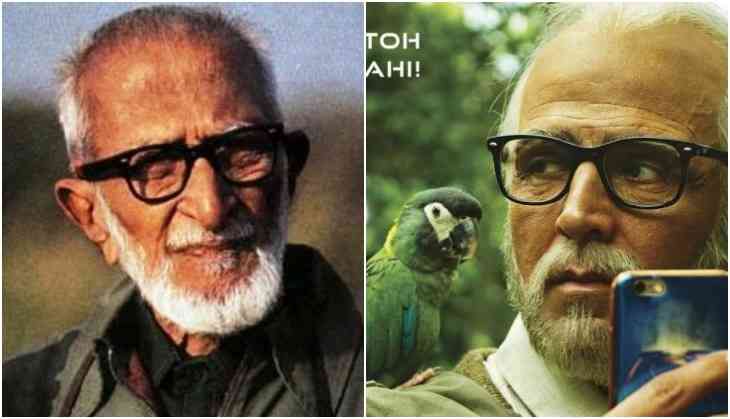 Akshay Kumar and Rajinikanth starrer film 2.0 has released and the film has just made a huge buzz in the theatres and at the box office. Although, South region is just worshipping Rajinikanth for the best performance of him as Scientist Vasikaran and Chitti - Robot. Even, Amy Jackson as a Robot Nila has shocked everyone with her moves and action sequences.
However, the most surprising character of the film is Pakshirajan played by Akshay Kumar. It is known that Akshay Kumar is playing the antagonist in the film but there is one more side of Akshay in the role of Pakshirajan that will connect you with his thoughts and social messages.
On the day of release makers revealed Akshay Kumar's another look from the film 2.0. In this look, you will see him in the old age man who has a bird on his shoulder and smartphone on his another hand. Actually, with this poster makers clearly showed the concept of the film. If you have watched 2.0 then you really would have got fascinated with the man Pakshirajan, so now let me tell you that S Shankar's character Pakshirajan is actually inspired from the real man Salim Ali, who was also called as the Birdman of India.
The real life #Pakshiraja - SalimAli, the inspiration behind #AkshayKumar's character from #2Point0.
He is referred to as the "Birdman of India" 👍 pic.twitter.com/vE2KZJg9w7

— ....💔 (@RajeevCool4) November 29, 2018
Like Pakshirajan, Salim Ali was also known for the saviour of birds who spend his more life in between the birds. Salim Ali was among the first Indians to conduct systematic bird surveys across India and wrote several bird books that popularised ornithology in India. He was awarded the Padma Bhushan in 1958 and the Padma Vibhushan in 1976, India's third and second highest civilian honours respectively.
Although, Salim Ali was just an inspiration for the role of Pakshirajan and it is definitely not based on Salim Ali. Actually, in the film, Pakshirajan turns villain and starts killing people who are using cellphones but Salim Ali died in 1987 and at that time the cell phones were not even introduced in India.
Also Read - 2.0 Box Office Collection Day 1: Akshay Kumar and Rajinikanth starrer film break all records and becomes the highest opening grosser