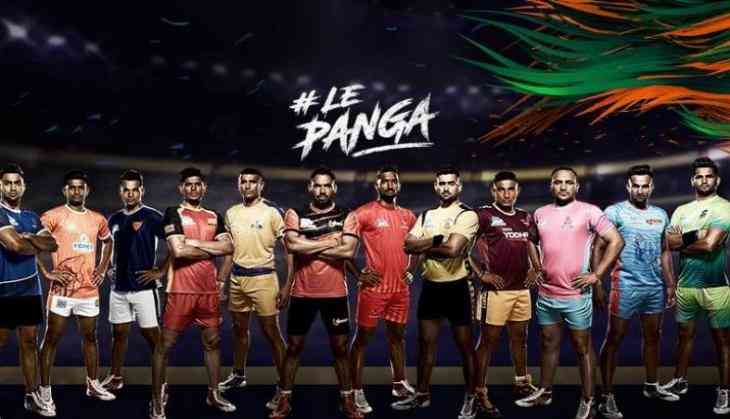 The seventh season of Pro Kabaddi League will kick-start from July 20th in Hyderabad's Gachibowli indoor stadium. The League is one of the most successful franchise-based sporting league in the country. Pro Kabaddi is also compared with the Indian Premier League which is the best T20 league in the world.
The tournament opener will see U Mumba locking horns with Telugu Titans, while in the second event of the evening defending champions Bengaluru Bulls will take on Patna Pirates, the most successful team in tournament's history.
Bengaluru Bulls will look to defend their first title while U Mumba will play to win their second. Patna Pirates have won the title for three consecutive seasons and will look to win their fourth. Gujarat Fortune Giants is relatively a new team but have reached final in the last two seasons and will look to finish the tournament with a title.
Also read: Pro Kabaddi League: U Mumba appoints Iranian defender Fazel Atrachali as captain
Hello there, Punekars! 🙏

Your Paltan's course for the #VIVOProKabaddi Season 7 is set. Watch them and support your team in every match, July 20 onwards, on Star Sports and Hotstar. #IsseToughKuchNahi pic.twitter.com/eArvkllKHm

— ProKabaddi (@ProKabaddi) July 18, 2019
The #DhaakadBoys are ready to roll! Can they have a season to remember? Here's how their fixtures pan out.

Watch #VIVOProKabaddi Season 7, July 20th onwards, LIVE on Star Sports and Hotstar. pic.twitter.com/8mUXKPgYPj

— ProKabaddi (@ProKabaddi) July 17, 2019
Here's the roadmap of defending champions @BengaluruBulls as they prepare to go #FullChargeMaadi!

Watch them in #VIVOProKabaddi Season 7 onwards, LIVE on Star Sports and Hotstar. #IsseToughKuchNahi pic.twitter.com/DI4fmj3BGx

— ProKabaddi (@ProKabaddi) July 17, 2019
Trounce and triumph – just like a Thalaiva! 🤩

Get ready to watch @tamilthalaivas in action in #VIVOProKabaddi Season 7, July 20 onwards, on Star Sports and Hotstar. #IsseToughKuchNahi pic.twitter.com/Q3PDDxrxH1

— ProKabaddi (@ProKabaddi) July 16, 2019
Dabangiri ke liye tayyiar ho na, @DabangDelhiKC fans!

Watch your Dabang boys se the mat on 🔥 in #VIVOProKabaddi Season 7, starting July 20, on Star Sports and Hotstar. #IsseToughKuchNahi pic.twitter.com/Wq7nT1BnxG

— ProKabaddi (@ProKabaddi) July 16, 2019
Garajne ke liye taiyyar ho jao, Gujarat! 😎

Save the dates and get ready to cheer your men in yellow & red in #VIVOProKabaddi Season 7, July 20 onwards, on Star Sports and Hotstar. #IsseToughKuchNahi pic.twitter.com/3dKWRJY4uc

— ProKabaddi (@ProKabaddi) July 15, 2019
The #PirateHamla is back!

Mark your 🗓️ and don't forget to support your Pirates in #VIVOProKabaddi Season 7 starting July 20, on Star Sports and Hotstar. #IsseToughKuchNahi pic.twitter.com/RWXSGdOmM9

— ProKabaddi (@ProKabaddi) July 15, 2019
🗣️ Mumbai waalon! #VIVOProkabaddi Season 7 is heading your way come 20th July! Be sure to take note of the fixtures and turn up in large numbers to support the #Mumboys.

And watch it all LIVE on Star Sports and Hotstar.#IsseToughKuchNahi pic.twitter.com/fEhygr3C2F

— ProKabaddi (@ProKabaddi) July 14, 2019
📣 IT's HERE! 📣

Save the dates, @Telugu_Titans fans!

Get your yellow 🔛 and watch #VIVOProKabaddi Season 7, July 20 onwards, only on Star Sports and Hotstar.#IsseToughKuchNahi pic.twitter.com/zYJAKbbgzL

— ProKabaddi (@ProKabaddi) July 14, 2019