Women's reservation Bill: Anurag Thakur hits back at Kapil Sibal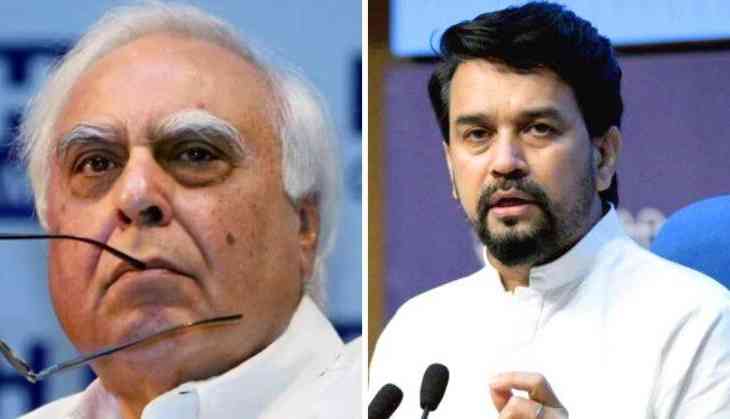 Anurag Thakur hits back at Kapil Sibal (File)
New Delhi: Hitting back at Rajya Sabha MP Kapil Sibal over his claim that the BJP was trying to extract political mileage from the women's reservation Bill that was tabled in the Lok Sabha, Union Minister Anurag Thakur on Tuesday said the former was the Law Minister when the draft legislation was introduced earlier in 2008 and is aware that the then Congress-led UPA never intended to pass the Bill.
The Women's Reservation Bill, which seeks to give fair representation to women leaders in the Parliament and other legislative bodies, was introduced in the Lower House during the ongoing Special Session of the Parliament, on Tuesday.
Thakur alleged that the Congress neither wanted to give reservations to women leaders in 2010 when it was in power and nor does it want to do so now.
Earlier, on Tuesday, Sibal said, "They (BJP-led NDA) want to extract political advantage from the women's reservation Bill in 2024, telling people that they brought the historic legislation. They should have done this in 2014. What is so historic about this? There will be a census and delimitation exercise before the Women's Reservation Bill is implemented. What if the census and delimitation don't happen?"
Responding to Sibal's remarks, Thakur told ANI, "He was a minister then (in 2008 when similar legislation was tabled under the UPA). He knew that the Congress was merely pretending to bring the law. The Bill was tabled in 2008 and the country went for general elections a year later. However, instead of passing it, the draft legislation was sent to the Standing Committee. They (Congress) did not intend to give reservations to women then and neither do they want it now."
"The Congress neither gave reservations to women under Indira Gandhi's leadership nor did it make any progress in that direction under Sonia Gandhi. There was also no reservation for women neither under (Jawaharlal) Nehru-ji nor Rajiv Gandhi," the BJP leader said.