With oblique reference to surgical strikes, PM Modi launches BJP UP campaign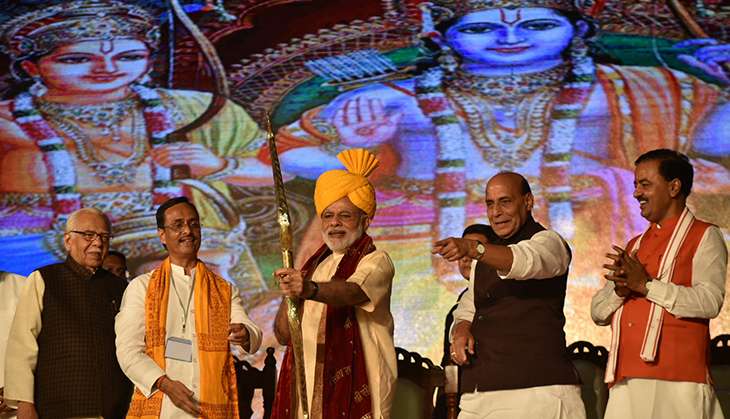 In yet another thinly veiled warning to Pakistan, Prime Minister Narendra Modi said on Wednesday that those who give shelter to terrorists won't be spared.
While attending a Dussehra celebration at Lucknow's Aishbagh Ramleela, Modi did not mention Pakistan or the surgical strikes carried out by the army across the Line of Control to destroy terrorists' launch pads, but the message was not lost on the crowd when he said: "Jo aatankwaadiyon ko sanrakshan dete hain, jo unki madad karte hain, ab toh unko bhi baksha nahin jayega."(Those who give shelter to terrorists and provide them help also won't be spared now).
The PM said while war sometimes became necessary, India's culture believed in going from yuddh (war) to Buddha (peace).
With this, Modi not only launched the Bharatiya Janata Party's campaign for the Uttar Pradesh Assembly polls early next year, but deflected criticism that the party was using the surgical strikes to gain political mileage in poll-bound Uttar Pradesh.
It's a clever strategy to merely allude to the surgical strikes and Pakistan as a haven for terrorists, because this way, on the campaign trail, the surgical strikes are bound to be revived, which will give the BJP an opportunity to exploit them for electoral gains.
Message to the world
The PM's speech followed Lucknow MP and Union Home Minister Rajnath Singh's oblique reference to the surgical strikes.
Welcoming the PM to his Parliamentary constituency, Rajnath said: "I feel honoured to welcome you, because it is for the first time that India's prestige has gone up in the comity of nations.
"I feel honoured to welcome you because India is no longer looked at as weak but as a strong country."
In a message to the international community, Modi said: "Nobody in the world should be under the impression that they are safe from terrorism. It is the biggest threat to humanity," adding that the entire world had to come together to fight terror. "Humanity cannot be saved without rooting out terrorism."
Recalling his trip to the USA in 1992-93, Modi said that the then-US Secretary of State (foreign minister) had described terror acts in India as a 'law and order problem', but that the country's perspective on terror changed after 9/11.
Exhorting the people, Modi said terror acts could be foiled if all 1.25 billion Indians kept their eyes and ears open to any suspicious activities.
Why so much terror talk?
As the occasion demanded, Modi did not talk politics. But the theme of terror was present throughout. It seemed like a well thought out strategy, since it gave him the chance to talk of the surgical strikes without mentioning them.
Lucknow mayor Dinesh Sharma explained that the Aishbagh Ramleela had a different theme every year, and this year, it happened to be terrorism.
Using mythology for a social message
The PM also gave out a strong social message against female foeticide, discrimination against the girl child and depravity towards women.
Citing the Ramayana's mythological character Jatayu as the 'first who fought terror', symbolised by Ravana, to save a woman, Sita, from abduction, Modi said there was a lesson for everyone in protecting the honour of women in our society.
"One Ravana is burnt every year because he had abducted Sita. But what about the innumerable Sitas who are killed in wombs?" the PM asked. He said it was a Ravana-like mindset which was responsible for the killing of our daughters, and the way we treated them.
He again applauded Indian women's performance at the Rio Olympics.
Edited by Shreyas Sharma
More in Catch
Vijayadashami: RSS chief Mohan Bhagwat lauds gau rakshaks, quotes Iqbal
In Narendra Modi's India, Indians aren't equal even in death
A fresh lease of life: 168-year-old rare wall painting of Ravana restored in Dehradun