In Narendra Modi's India, Indians aren't equal even in death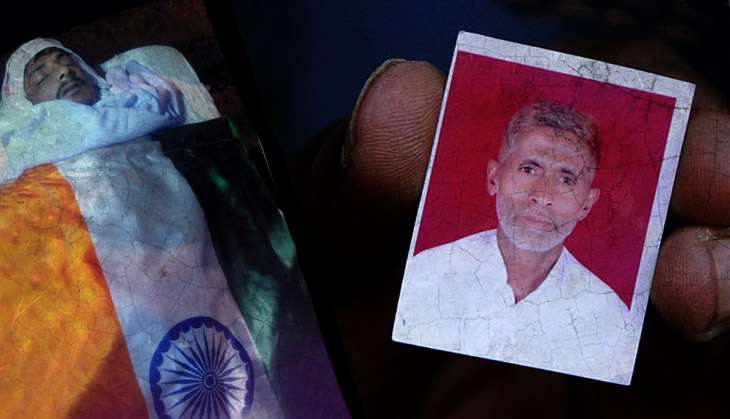 To see Dadri murder accused Ravi Sisodia draped in the national tricolour made one thing absolutely clear - that as Indians we aren't equal in life or even in death.
Mohammad Akhlaq and Ravi Sisodia lived in the same village - Bisara near Dadri in Uttar Pradesh. Akhlaq was lynched to death last year by a mob as they suspected him of storing beef in his refrigerator. Ravi was part of this mob and allegedly played a key role in murdering Akhlaq.
Earlier this week, Ravi died of organ failure while in custody. The national tricolour was draped around his corpse - an honour usually reserved for armed forces personnel, police and public officials. Union Minister Mahesh Sharma and MLA Sangeet Som, both belonging to the BJP, attended his cremation.
Met the family of deceased Ravi in Bisara village, Greater Noida. Bisara get settled now pic.twitter.com/RfDzga3ddC

— Dr. Mahesh Sharma (@dr_maheshsharma) October 7, 2016
His village hailed him as a martyr. Hindutva activists raised slogans of "Hindu Ekta Zindabad! Hum sab Hindu hain!" at his cremation.
In contrast, see what happened to Akhlaq after his death. A case of cow slaughter was registered against him in response to a petition filed by some of the accused. The UP government even went to the extent of conducting an inquiry on whether the meat in Akhlaq's fridge was beef or not. It proudly concluded that the meat wasn't beef as if the lynching would have been justified had it been the other way around.
A dead man was booked at the insistence of his alleged murderers. And now one of his killers has been cremated almost as if he were a national hero!
Akhlaq's case proves one thing - if you emerge as a symbol against Hindu right wing violence, even your grave will be trampled upon.
But Akhlaq's isn't the only one to meet this fate.
A suicide and a massacre
Hyderabad Central University research scholar Rohith Vemula was labelled an "anti-national" and hounded by the entire Hindutva brigade - from ABVP activists in HCU to BJP MP Bandaru Dattatreya and even the then Union HRD Minister Smriti Irani. His scholarship was withdrawn and he was thrown out of the hostel and finally driven to commit suicide. All his life struggles were centered around the reality of being a Dalit. He lived a Dalit, died a Dalit and ended his suicide letter with the words "Jai Bhim".
But after his death, the government went to great lengths to prove that he wasn't a Dalit in the first place. As if it would have made his suicide any less tragic. BJP General Secretary P Muralidhar Rao even went to the extent of calling the dead scholar "anti-national", almost insinuating that he had it coming.
Even now the HRD Minsitry is reported to be releasing a report that says Vemula wasn't a Dalit but an OBC, something that has been refuted by his mother. Yet again, the Hindu right wing trampled upon the dead body of someone who emerged as a symbol against them.
For the third case, we cut back to 2002, when most stories associated with Narendra Modi begin. Former Congress Rajya Sabha MP Ehsan Jafri was murdered along with 68 others by a mob at the Gulberg Society in Ahmedabad, during the Gujarat riots. The deceased Jafri became an icon for the riot victims, due to his prominence as well as the tireless legal battle waged by his brave wife Zakia Jafri. Fourteen years later, in 2016, the lower court said that Jafri's firing angered the mob which led to the killings. This was largely due to the failure of the prosecution in the BJP ruled state. So Ehsan Jafri not only had it coming, he also caused the death of 68 other people!
A martyr maligned
Leave aside Jafri, Akhlaq and Vemula, the Hindu Right wing didn't spare even 26/11 martyr Hemant Karkare. When the NIA decided to drop charges against 2008 Malegaon blast accused Sadhvi Pragya earlier this year, right wingers accused Karakre of framing them and even worse, being anti-national himself.
If Vemula, Jafri and Akhlaq emerged as iconic victims of right wing violence, Karkare was guilty of much worse in their eyes - he exposed the anti-national colours of Hindutva extremists. It was essential for the Hindutva brigade to demolish Karakre, even if it was eight years after his death. .
These cases reveal the Hindu Right's firm belief that only they have the right to create icons - from someone like Ravi Sisodia to VD Savarkar who has falsely been given the title "Veer (brave)". Icons that emerge in opposition to them will be erased or, even worse, maligned and discredited.
We presently live in a country where Ravi Sisodia is hailed as a martyr, but a real martyr like Karkare is insulted. Where Ehsan Jafri is accused of causing the death of 68 people but the man whom he called for help only to receive taunts in return, has been elected as the Prime Minister. Where Kashmiri children are blinded by pellets for merely being in the vicinity of a protest, but agitators guilty of far greater violence are treated with kid gloves in Haryana and Karnataka. Where the life of a cow is considered more precious than that of a man, a father, a husband like Mohammad Akhlaq.
Let's face it we live in an India where secularism has died.
The views expressed here are personal and do not necessarily reflect those of the organisation.