A fresh lease of life: 168-year-old rare wall painting of Ravana restored in Dehradun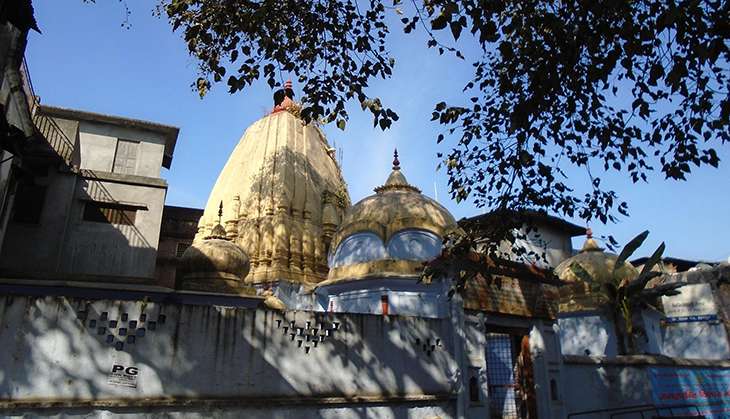 Most of the time, the passersby ignore the Shree Radha-Krishan temple located on the crowded Tilak Road in Dehradun. The temple, established way back in 1848, stands at the entry point of the vegetable market and the road remains busy round-the-clock with heavy traffic. The general tendency of the public is to rush out of the place to avoid getting stuck in a jam.
But things are changing for the temple. The trustees managing the 168-year-old temple recently decided to conserve the surviving wall painting in the shrine.
Among the eight panels, located on the inner surface of the temple dome, a full-size rare mural of the demon King Ravana was recently restored to its pristine glory.
The 2.5X3 feet mural is painted in the traditional Pahari style, showing Ravana's ten heads and twenty arms. The demon king is drawn wearing a long kurta and striped pajamas.
The mural had suffered damaged due to seepage and other challenges like smoke emitted by agarbattis (incense sticks) and mustard oil lamps used during puja.
It is believed that in the past, many other walls of the temple also had paintings. But, over the years they suffered damage and were lost forever to the annual or bi-annual whitewashes with lime and distemper.
Only eight panels of the inner surface of the dome managed to survive the harsh test of time. And what ever has remained is also in a rather deplorable condition.
Raju Gusain/Catch News
Raju Gusain/Catch News
More on the walls
Besides the demon king, paintings of other mythological characters like Lord Ram, Shiva and Krishna have been restored as well. Not many wall paintings have survived in Dehradun due to the non-availability of an artist who knows how to restore paintings, lack of technology, huge costs involved in conservation work and also - the growing prices of real estate - which makes old properties lose the race due to the increased commercial values.
One can find the biggest collection of murals at Guru Ram Rai Durbar. Few murals presently exist at some isolated houses across the city. But, the restored Ravana wall painting presents the full illustration of the demon god. At Guru Ram Rai Durbar the lower portion of Ravana's painted figure has gotten washed away due to rainfall and manual attack on the wall.
Art historian BP Kamboj says, "Ravana is a common figure in wall paintings of Garhwal. You find murals of the demon god at many places, but the restored painting is possibly the biggest in size."
Edited by Jhinuk Sen