UP polls: Dissent in BJP as 'loyal' partymen oppose tickets to turncoats
There is growing discontent in the Bharatiya Janata Party over loyal party leaders and workers getting a raw deal in the distribution of tickets. Some of the leaders who have been ignored have turned rebels and their miffed supporters have started resorting to protests.
In some cases, the disgruntled party workers have resorted to various forms of protest like the one in Faizabad where the party MP Lallu Singh and the district president Awadhesh Pandey were tied up with a rope and held hostage.
The workers' anger had spilled over after Ved Gupta, who joined the BJP last year, was given ticket from Ayodhya assembly seat. Gupta had contested for the Ayodhya seat on Bahujan Samaj Party ticket in 2012. He was with the BJP in the late eighties and had played a part in the demolition of the Babri Masjid in Ayodhya in 1992. Gupta began his career as a member of the Congress party.
The workers released Lallu Singh and and Awadhesh Pandey after two hours but not before they promised to convey their sentiments to the party's central leadership. The workers' demand was that instead of Gupta, who has frequently changed his political affiliation, the party should have fielded one of its own.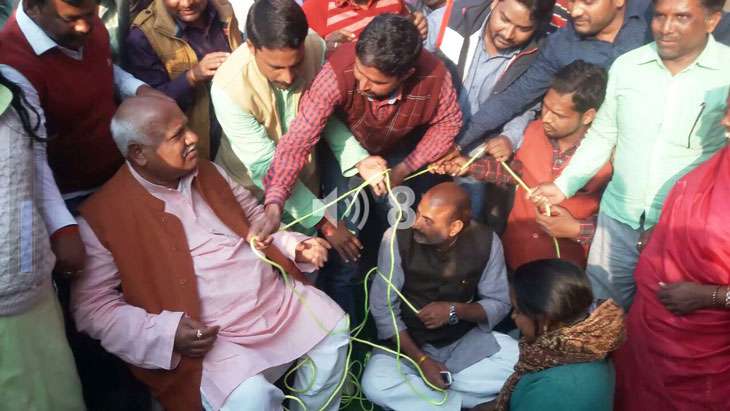 BJP MP Lallu Singh was tied up by angry party workers
Around the same time BJP workers were staging protests at the party headquarters in Lucknow and in Gorakhpur, Deoria and Kushinagar. In Gorakhpur the workers burned the effigy of Yogi Adityanath while in Lucknow they raised slogans against state party president Keshav Prasad Maurya for the nomination of Om Prakash Pandey from Sultanpur district's Isauli constituency.
Pandey, the protesters alleged, owned two schools where Maurya's close relative Pankaj Maurya worked as manager. When the party workers from Isauli were staging the vociferous demonstration the party chief was inside in his room. He later stepped out to pacify the angry workers.
Ticket aspirants from Harchandpur constituency in Rae Bareli and Tindwari in Banda were also peeved at the party for ignoring their claim. Party's own ticket hopefuls from Harchandpur staged a protest against the nomination of Kanchan Lodhi, again described as an outsider.
Protests were staged against the candidature of Brijesh Prajapati from Banda's Tindwari constituency. The BJP ticket aspirants were upset that Prajapati, who had left the BSP for a BJP ticket, was chosen over any one of them.
Rakesh Dubey, a committed BJP worker from Shahjahanpur and the party's district unit chief, threatened to immolate himself after being bypassed for the Dadraul seat. Instead of Dubey the party settled for Congress turncoat Manvendra Singh. Dubey was later taken into custody when he attempted to end his life.
Workers from Bhognipur constituency in Kanpur Dehat, also voiced their protest against the official party candidate.
These rumblings within its rank and file are not over outsiders alone. The Noida MP Mahesh Sharma's trusted man and general secretary of BJP's Gautam Buddh Nagar unit, Sanjay Bali, resigned from the party over ticket being given to Pankaj Singh, Union Home Minister Rajnath Singh's son.
In Kairana, from where party MP Hukum Singh's daughter Mriganka Singh has been given ticket, an old party worker Anil Chauhan has threatened to oppose the official nominee.
Protests were reported from Etah too. Here former UP chief minister Kalyan Singh's grandson Sandeep Kumar Singh has been given ticket. Sandeep's father Rajveer Singh is MP from Etah which is Kalyan's home district.
The party is not too worried about these rumblings. A party general secretary said that tickets had been distributed keeping the candidates' winnability in mind. All the 40 sitting legislators have been given tickets. He expressed the hope that the protesters would be convinced to work in the interest of the party.