Uma Bharti on comparison with Sadhvi Pragya: She is a great saint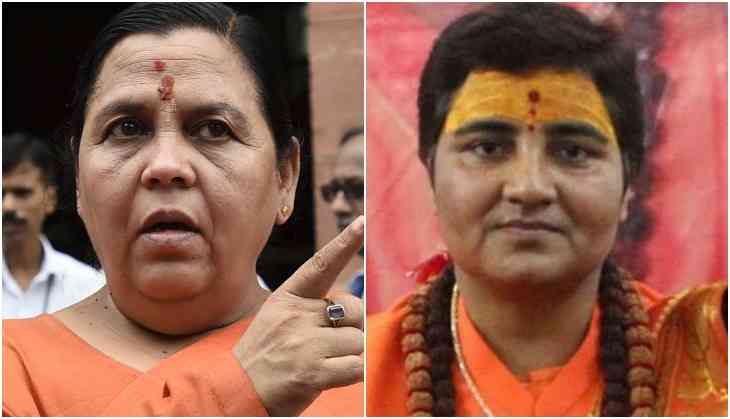 Uma Bharti has been a big name in the politics in Madhya Pradesh for BJP for a long two decades. However, now there is an entrance of another saffron-wearing woman, Sadhvi Pragya who is also the candidate from Bhopal Lok Sabha constituency for BJP. With this, the limelight of Uma Bharti has somehow gone under the vain after Sadhvi Pragya.
Sadhvi Pragya joined BJP in the starting of the month and she got appointed as the candidate for BJP in Bhopal constituency. She is going to have a fight with Congress senior leader Digvijaya Singh. Since Sadhvi Pragya has made her official entry in the politics, she courted with several controversies. While, on the other hand, Uma Bharti who has been a leader for BJP from last two decades is also popular for her controversial statements.
Uma Bharti even won the Lok Sabha seat from Bhopal way back in 1999, but now when Sadhvi Pragya is in her constituency, she has no problem with her instead she is all praise for her. When asked to Bharti about her comparison with Uma Bharti, she told reporters, "She is a great saint. Don't compare me with her. I'm just an ordinary and foolish creature,"
Well, what exactly Uma Bharti was saying it actually under vein because it doesn't make clear is it her humble side or was she trying to take a dig at Sadhvi Pragya sarcastic undertone. Uma Bharti has been the minister of drinking water and sanitation in Modi cabinet. These days Uma Bharti has been seeing less and think she is letting Sadhvi Pragya to fight against Congress.
While now all eyes on accused of Malegaon blast case, Sadhvi Pragya whose entry into the politics and contesting election has been criticized by all. She has always been termed with 'Hindu terror', and that is also a big weapon for Congress party.