Trying to wipe out history? Mamata changes names of CPI(M) projects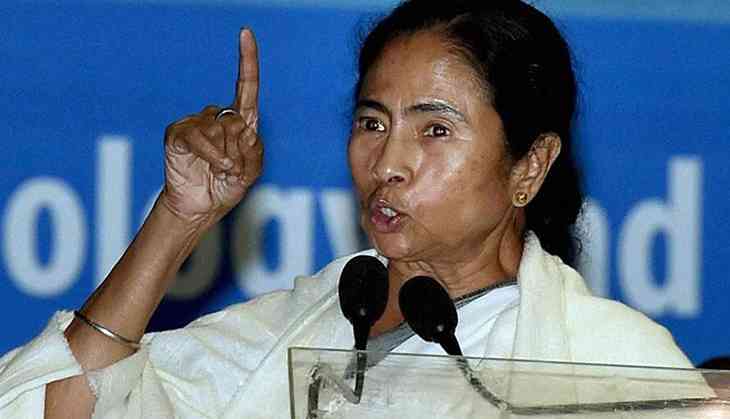 All India Trinamool Congress (AITC) has been quite vocal against the Centre for renaming Mughal Sarai station after Deen Dayal Upadhyay. However, the West Bengal government has also decided to rename some of the projects undertaken during the CPI(M) rule in Bengal.
Sources in the state government said that Mamata Banerjee has changed the name of the Salt Lake Stadium to Kolkata Sporting Arena. The Salt Stadium currently is hosting U-17 World Cup. The foundation stone of the Salt Lake Stadium was laid by late Chief Minister Jyoti Basu. Banerjee has also changed the name of a water treatment plan – Jyoti Basu Jal Prakalpa – to Jai Hind Jal Prakalpa.
A senior official of the state government said that the decision to rename the projects has been taken by chief minister herself a few days back. It has also been decided that few roads in Kolkata will also be renamed later. The state cabinet is yet to give its approval for the renaming process.
But this is not the only thing that Banerjee is trying to change about Bengal's 'communist' past. The West Bengal government has been trying to leave out the chapters of Karl Marx and Friedrich Engels from the history syllabus in schools.
Moreover, the government has included Nandigram and Singur movements in the syllabus in schools, so that students can get to know about Banerjee's struggle against the then CPI(M) government. The government has also put the Biswa Bangla logo and on all state-aided projects.
It may be mentioned that the Bengal government has also sent in their proposal for renaming Bengal to Bangla in Bengali and Bengal in English in the last Cabinet meeting held on 8 September 2017. The Centre is yet to give their final approval in this regard.
Banerjee's decision to rename the projects has drawn flack from the Opposition parties who said that the CM is just trying to destroy history and enforce a dictatorial rule.
"How can she change the history? She might love or hate any idea, but she cannot alter history. West Bengal government can give new names to new roads, but why they are changing the names that have already been given by her predecessors? This proves that Banerjee's opposition against the Centre for changing the name of Mughal Sarai station was just an eyewash. The secret pact between BJP and the Trinamool Congress once again come to light," CPI(M) leader Sujan Chakraborty said.
It may also be mentioned that Trinamool earlier has removed Jyoti Basu's name from New Town Rajarhat and did not provide a plot of land to CPI(M) leaders for setting up a research and student center named after Basu.
"Mamata is trying to establish autocracy in the state and so it is natural that she will do whatever she feels. We do not support this," state BJP president Dilip Ghosh said.
Edited by Jhinuk Sen