Tamil Nadu's EPS govt in minority after 19 Dinakaran MLAs withdraw support
S Murari
| Updated on: 22 August 2017, 19:47 IST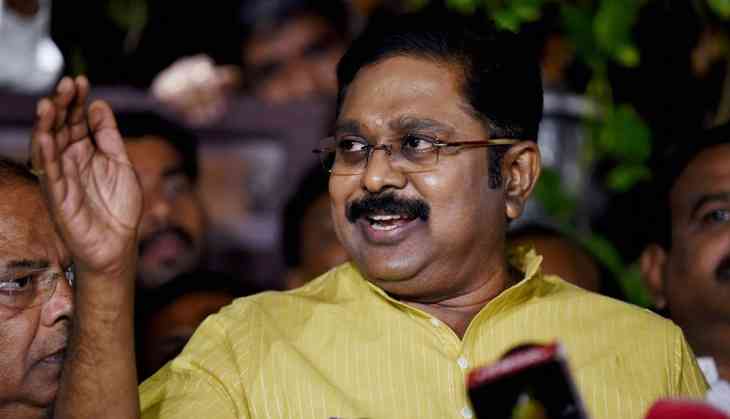 The six-month-old Edappadi K Palaniswami government has been reduced a minority in the Tamil Nadu Assembly, following the withdrawal of support by 19 MLASs loyal to deposed deputy general secretary TTV Dinakaran.
The rebel MLAs met Governor C Vidyasagar Rao on Tuesday morning and gave separate but identical letters, informing him that they have "lost confidence" in the government, and urged him to take all steps as per the Constitution.
The Governor has since left for Mumbai (he is also the Governor of Maharashtra), indicating that he is in no hurry to take a call on this, since the situation still fluid.
Initially, 20 ruling party MLAs openly sided with Dinakaran, of which 18 stayed away from the joint meeting of the united AIADMK held at the party headquarters after the merger between the EPS and O Panneerselvam factions on Monday. Later in the night, the number swelled to 20, of which 19 met the Governor in the morning.
As the Assembly is not in session, it remains to be seen how many of these rebels will stay with Dinakaran till the end.
The numbers game
The total strength of the House is 233, minus the vacant seat of former Chief Minister J Jayalalithaa, for which the by-election was postponed.
The EPS government won the trust vote last February with the support of 122 MLAs. Panneerselvam and 10 of his supporters abstained.
However, with the withdrawal of support by 19 MLAs, the strength of the government has come down to 113. Out of these, three MLAs who have won on the AIADMK symbol have made common cause with the rebels, reducing the government strength further to 110. The government needs another seven or eight MLAs to sail through.
Reasons for withdrawal
In their letters, the rebels have cited corruption and maladministration as the reason for their loss of confidence. They pointed out that Panneerselvam himself had planned to launch an agitation against the government on the issue of corruption.
Speaking on behalf of the rebels, Andipatti legislator and prominent Dinakaran supporter Thanga Tamil Selvam said EPS had lost the confidence of the party cadres by rewarding Panneerselvam with the Deputy CM's post, since he was the one who had split the party and caused the party's 'two leaves' election symbol to be frozen.
He said these MLAs would bring down the government by bringing a no-confidence motion, if the Governor did not order a floor test.
Stalin's demand
DMK working president and Leader of the Opposition MK Stalin said the Governor should immediately call the Assembly to session, and ask Palaniswami to prove his majority.
The DMK and its allies have 98 MLAs. But they cannot bring down the government unless all 19 rebels stand firm in their resolve against the government.
The present fluid situation may pave the way for horse-trading.