Sharad Yadav unites Opposition: Is he emerging as Harkishan Singh Surjeet 2.0?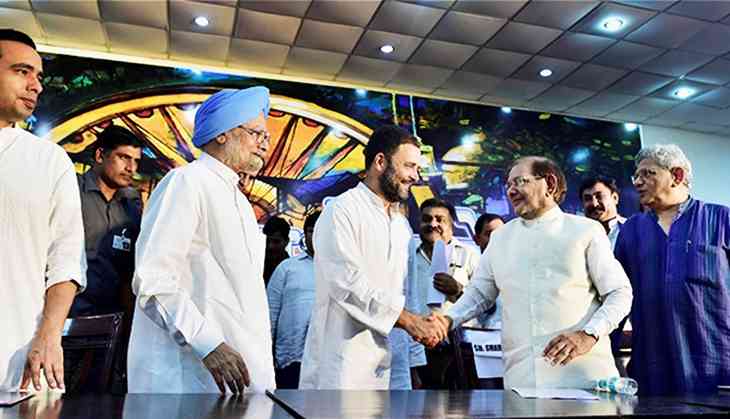 If you thought it was hard to imagine a former convenor of the BJP-led NDA to turn into a convenor of an Opposition alliance, all you needed to do was attend Sharad Yadav's "Saanjhi Virasat Bachao" convention. The event organised by the veteran parliamentarian at New Delhi's Constitution Club turned out to be among the largest gathering of Opposition parties in the last three years. The significance of the event lay not just in numbers but also the socio-political spectrum at display.
From a tribal leader to a Dalit leader, from Muslim leaders to comrades, from leaders from Jammu & Kashmir to Tamil Nadu and from several former chief ministers to a former prime minister – Yadav succeeded in bringing all of them on one platform. The theme chosen by Yadav also proved to be so effective that in spite of all speakers having different things to say, all speeches were centred around defending the country's "composite culture".
From Rahul Gandhi to Ghulam Nabi Azad, Farooq Abdullah to Sitaram Yechury and Babulal Marandi to Prakash Ambedkar, all leaders came down heavily on the BJP, RSS and their larger Sangh Parivar for trying to destroy the country's basic character. The event proved to be a glamorous coming together of Opposition parties, at par with previous ones called by Congress.
Sharad Yadav defines central idea
Yadav declared the meet open, saying he has got copies of the Preamble posted on the walls of the venue which was the inspiration behind the event. He said BR Ambedkar drafted India's Constitution after a partition which was unparalleled in world history and therefore, the Constitution's guiding force was of promoting the country's composite culture.
He said this culture was now under threat as farmers were committing suicide and mobs were killing people. Mentioning the Dadri, Alwar, Una and Saharanpur incidents to illustrate his argument, the former JD(U) chief told Prime Minister Narendra Modi that if he really wanted no violence in the name of faith, he should tell that to state governments run by his party. Yadav urged people to stop those hands that rise for assaulting anybody in the name of religion or caste. However, this resistance should be non-violent, he stressed. Calling for a sustained campaign, he concluded that the day the people of India stood up, even Hitler will not be able to defeat them.
Those who attended the function and addressed the gathering included:
JD(U) leaders in Yadav's camp Ali Anwar, Arun Srivastava and Ramai Ram
Former prime minister Manmohan Singh, Congress vice-president Rahul Gandhi, Leader of Opposition in Rajya Sabha Ghulam Nabi Azad, Congress leader Ahmed Patel
CPI(M) General Secretary Sitaram Yechury
CPI General Secretary Sudhakar Reddy, CPI National Secretary D Raja
National Conference leader and former J&K CM Farooq Abdullah
Samajwadi Party leader Ramgopal Yadav
Jharkhand Vikas Morcha (Prajatantrik) chief and former Jharkhand CM Babulal Marandi
Rashtriya Janata Dal leader Manoj Jha
Bahujan Samaj Party leader Bir Singh
Ambedkar's grandson Prakash Ambedkar
Rashtriya Lok Dal's scion Jayant Chaudhary
Trinamool Congress leader Sukhendu Shekhar Roy
Janata Dal (S) leader Danish Alvi
Nationalist Congress Party leader Tariq Anwar
With the event, Yadav upped the ante in his rebellion against his party chief Nitish Kumar's decision to ally with the BJP. No leader from Kumar's camp attended the event, with party's General Secretary KC Tyagi saying the party will not be a part of any programme where "tainted-painted" people were present.
Hum aise kisi karyakram ka hissa nahi ho sakte jismein tainted painted kisam ke log shamil hon: KC Tyagi, JDU on'Sanjhi Virasat Bachao'event pic.twitter.com/O80cQaK8v1

— ANI (@ANI) August 17, 2017
Speaker after speaker lauded Yadav for taking the initiative and urged him to take it to its logical conclusion, which would be a strong and united opposition alliance against the BJP. The presence of Gandhi, Patel, Azad and Singh indicated that Yadav has the support of even the de-facto leader of the Opposition - Congress chief Sonia Gandhi. This says volumes about Yadav and an Opposition collective being formed under his watch.
The success of the event can be gauged from the fact that BJP was forced to hold a press conference later in the day only to respond to the event and the statements made there. Union Minister Ravi Shankar Prasad hit out, asking "organisers of composite heritage how they consider merciless killings of RSS workers by CPM & goons in Kerala".
On behalf of BJP I ask organizers of composite heritage how they consider merciless killings of RSS workers by CPM&goons in Kerala:RS Prasad pic.twitter.com/T0IkY3w7BH

— ANI (@ANI) August 17, 2017
Rahul Gandhi's observations are more of a political cry: Shri @rsprasad https://t.co/nGXvuClW3u

— BJP (@BJP4India) August 17, 2017
Modi govt fully respects the independence of judiciary and upholds the independence of media: Union Minister Shri @rsprasad

— BJP (@BJP4India) August 17, 2017
We strongly condemn the remarks by Rahul Gandhi against the judiciary and media : Union Minister Shri @rsprasad

— BJP (@BJP4India) August 17, 2017
I would expect Rahul Gandhi not to make irresponsible political comments about judiciary: Union Minister Shri @rsprasad

— BJP (@BJP4India) August 17, 2017
It looks like Nitish Kumar may have just given the Opposition a much-needed push and Sharad Yadav's new found stature as the crafty tailor of unprecedented Opposition unity. Is an alternative UPA in the offing with Yadav as its convenor? Who knows the Opposition may have finally found a figure who could play the role Harkishan Singh Surjeet played 13 years ago.