Sachin Pilot says, 'I made no personal attacks against anyone'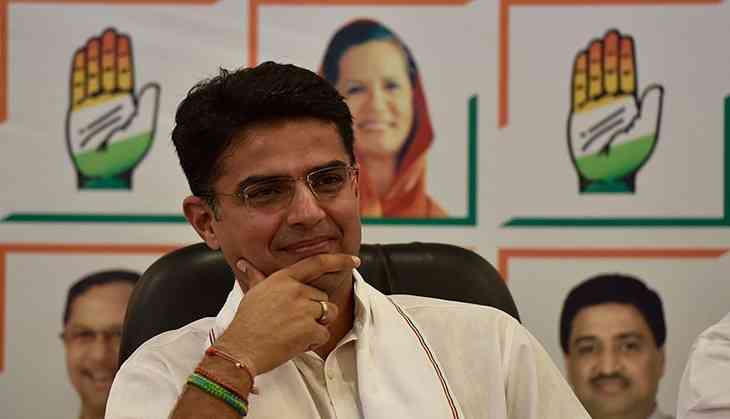 Congress leader Sachin Pilot.
Former Rajasthan Deputy Chief Minister and Congress leader Sachin Pilot on Friday said that he has not made any personal attacks against anyone during his various public meetings in the state in the last five days.
"I went to different districts of the state in the last five days, but the topics I spoke on during these days were based on issues of farmers and youth. There were no personal attacks on anyone," Pilot said while addressing a youth gathering after inaugurating a library at Maharaja College on Friday.
He further took a swipe at those leaders who remark their opponents 'personally' and said that the leaders, during the polls should oppose each other on the basis of issues and ideologies, not on personal grounds.
"In politics, I have always respected my opponents who contest elections against me and I have always given respect to those who oppose me. I have respected their policies, and administrative work and I also have exposed corruption but never used those words for opponents which I myself cannot hear for me. When polls come, we oppose each other and we should do it, but it should be done on basis of issues and ideologies. It is easy to indulge in personal attacks and speak foul language," Pilot said.
The rancour between the Congress' two top leaders in Rajasthan is deepening in an election year.
Pilot is conducting a mass-contact campaign without the official involvement of the state committee which has reignited trouble for the Congress in Rajasthan.
Earlier, he said that he had hoped that Chief Minister Ashok Gehlot's administration would take action against those found involved in alleged corruption during the previous BJP regime. However, Pilot, who has been vocal against the Chief Minister lately, said that he "believes" that action will be taken against the corrupt in a year's time that the government has left before the state enters election mode.
"Yesterday I said that the BJP government in Rajasthan was corrupt. We had exposed many irregularities with evidence. We had gone till Delhi. I had hoped that action would be taken against those found involved in corruption. We have a year's time, I believe action will be taken," Pilot said while speaking to the media.
"Be it the carpet scam, or the many allegations of different scandals related to Lalit Modi, which we had proved. I believe action would be taken," he added.
(ANI)
Also Read: Popular Front of India forms 'Service Teams', 'Killer Squads' to establish Islamic rule by 2047: NIA charge sheet