Rebel Velingkar returns to RSS fold. What does this mean for post-poll Goa?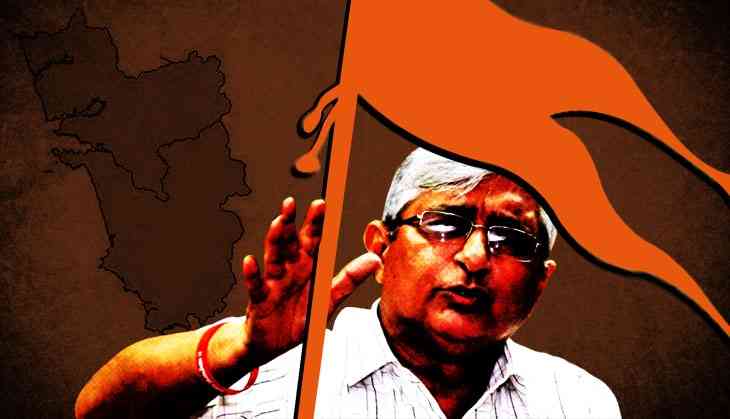 In October 2016, Goa RSS rebel Subhash Velingkar launched a new political outfit, Goa Suraksha Manch (GSM), with the mandate of 'comprehensively defeating' the BJP in the 2017 Assembly polls.
The GSM even contested the elections. But now, days before the results are to be announced, Velingkar has decided to dissolve his breakaway faction, the Goa Prant, and announced his decision to rejoin the parent organisation – the RSS.
The move has baffled political pundits, who have been left wondering why Velingkar made such a move just before the results. While Velingkar claimed that he and those who were part of the breakaway faction always belonged to the RSS, questions are being raised whether a deal has been reached between Velingkar and the RSS over the Medium of Instruction (MoI) issue.
Assurances on core issue?
Earlier in 2016, Velingkar and his supporters accused the BJP leadership, particularly Chief Minister Laxmikant Parsekar, for not ceding to their demand of providing education in schools in regional languages, and withdrawal of grants to English-medium schools in Goa. After being snubbed by the BJP, Velingkar, along with hundreds of his supporters, broke away to form the Goa Prant.
"The Goa Prant was a Special Purpose Vehicle (SPV) created to teach BJP a lesson that it can no longer take the RSS for granted. Once that purpose was served, we were back to where we belong. We will always be RSS, even if we are with them or not," said former North Goa district head Krishnaraj Sukerkar.
Sukerkar and Velingkar have begun visiting the shakha to 'salute the saffron flag'. "We had been telling them not to antagonise the RSS, and yet they continued to do so over the MoI issue. This led to the creation of Goa Prant and GSM," Sukerkar added.
On the question of what happens to the GSM, Sukerkar said it will continue to exist, and that it is now an independent political body with no one from the RSS involved in its decision-making process. "If it doesn't manage to win any seats, then it could be dissolved, but we have no say in it. The purpose for which it was created has been fulfilled," he said.
Sukerkar, however, didn't divulge any details about what made them return to the parent body, and claimed they got no assurances from anybody about anything.
However, a senior BJP leader from the state told Catch that some sort of assurances have been given to Velingkar and his team. He went on to claim that the consensus was reached after the intervention of senior RSS leaders from Nagpur.
Jumping the gun
Meanwhile, an independent candidate, considered close to the RSS, said Velingkar had jumped the gun, and should have waited for the results before making his return. "How can one bank only on assurances? They should have waited for the BJP to form the government, and see whether they stick to their word. If they had been away from the RSS for so long, they could have easily waited till the results were announced," he added.
According to this candidate, Velingkar and company were now in no position to bargain, and could no longer threaten either the RSS or BJP.
However, Sukerkar strongly disagreed with this argument, and claimed they were always part of the RSS. "Now they (BJP) know that RSS can't and shouldn't be taken lightly. If they don't listen to us, we can remind them what we are capable of," he said.
Has Velingkar cost BJP?
Sukerkar believes that GSM has been able to eat into the BJP's vote bank, which could also turn out to be the deciding factor when the results are announced. Echoing his views, a senior BJP leader claimed that GSM contesting polls would certainly hurt the BJP, but to what extent, he was not sure.
Adding to the BJP's woes, a resurgent Maharashtrawadi Gomantak Party (MGP) could spoil its chances of retaining in the state. "BJP might end up losing three to four seats because of the MGP. The tally could go even higher. This division of votes could be a certain advantage for our opponents," said the BJP leader.
Meanwhile, MGP's Sudin Ramkrishna Dhavalikar, who was a minister in the Parsekar government and was sacked just before the polls, claimed that Velingkar's decision to rejoin the RSS was his personal decision. The MGP, Velingkar's GSM and the Shiv Sena had formed a 'grand alliance' before the polls, and decided to make MoI their poll plank.
"It is good that they came and helped the MGP, but we are the oldest party in Goa. We ruled the state for 17 years, so we do not depend on any individual or organisation. However, what impact the GSM would have on the results can't be predicted," he said, adding that Velingkar was an old RSS hand and his return was a personal decision.
The results of the Goa Assembly elections are to be announced on 11 March, and there is no clear frontrunner in the race. It is for this reason that Sukerkar claims: "I have been watching Goa elections for decades, and frankly, it is for the first time that no one can predict anything."